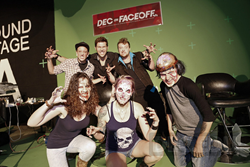 I came to this school because Tyler went here," Quack said. "Then to have him come back and do make-up on me… amazing!
MONESSEN, PA (PRWEB) August 11, 2015
Tom Savini's Special Make-Up Effects program at Douglas Education Center (DEC) is no stranger to the hit television series "Face Off." In its ninth season on the SyFy channel, the award-winning make-up elimination show so far has featured 21 former students from the program. On Tuesday, DEC celebrated the new season by bringing back current "Face Off" competitors Nora Hewitt and Ricky Vitus, along with season 6's runner-up Tyler Green. The affair was hosted by the Godfather of Gore himself, Tom Savini.
Walking into the large sound stage in the school's Factory Digital Filmmaking building, the three "Face Off" stars were greeted with applause by a couple hundred people. The event was invitation-only, attended primarily by staff, faculty, and current and prospective students.
The evening continued with Hewitt, Vitus and Green applying prosthetic make-ups on student models. Jerry Gergely, director of the Savini program, narrated as the artists brought their monsters to life during a one-hour demo. This was a small window into seeing first-hand how quickly these artists worked under the high pressure and deadlines of the show. When the demo wrapped up, audience members jumped to get a close look at their make-ups and take selfie photos with the three stars.
Perhaps nobody was as excited to meet Season Six finalist Tyler Green as Isabella Quack. A first semester student from Germany, Quack heard about the school in Monessen when she discovered her favorite "Face Off" star graduated from the Savini program there. An even bigger thrill was when Green used her as his model and turned her into a gruesome zombie.
"I came to this school because Tyler went here," Quack said. "Then to have him come back and do make-up on me… amazing!"
While Green graduated from DEC in 2006, Vitus and Hewitt attended the school much more recently, graduating in 2013 and 2014 respectively.
After the demos, the three stars sat down with Tom Savini to discuss the show, talk about their education at DEC, and answer questions from the audience. Then the night ended with the live broadcast of the second episode of "Face Off" season 9 on the big screen, of which Ricky and Nora were featured quite prominently. The crowd was disappointed when neither of the two contestants won the episode's challenge, but Nora came close by having the second best look.
Overall for DEC, the evening was a big success, and the school hopes to continue with more events like it.
"What a night to remember," said Jeffrey Imbrescia, CEO/President of DEC. "Our event felt like the Super Bowl of special effects. The place was packed. People came from far and near to be a part of it."
DOUGLAS EDUCATION CENTER
Established in 1904, Douglas Education Center (DEC) is a premiere career institution located in Monessen, PA. DEC creates an educational atmosphere that not only fosters the highest standards of excellence in all students, but also helps these students develop an awareness of social responsibility and ethical behavior. DEC offers programs in special make-up effects, digital film, illustration, fantasy art, graphic design and web, cosmetology, medical, and natural gas.