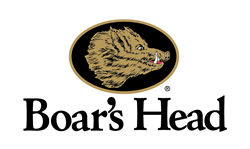 SARASOTA, Fla. (PRWEB) August 11, 2015
Boar's Head Brand®, one of the nation's leading providers of premium delicatessen products, is helping families get ready for the school year with a menu of lunchtime recipe options. Made with favorites like Boar's Head EverRoast® Oven Roasted Chicken Breast and Boar's Head American Cheese, these recipes help keep kids fueled and add variety and creativity to daily lunches.
"Packing a homemade, nutritious lunch with Boar's Head is a time honored tradition that families have followed for over a century," said Elizabeth Ward, director of communications for Boar's Head Brand. "During the school year, we know busy parents seek lunch options that are simple, wholesome and delicious, and we're honored to provide trusted, quality ingredients that help inspire delicious lunches across the country."
Create excitement in the lunchroom each day with these Boar's Head recipe favorites:
Monday: Get Back Into the School Swing with a Star Student Sandwich

Tuesday: Turkey Tuesdays Makes the Grade

Wednesday: Beat the Mid-Week Slump with Crafty and Creative Sandwiches

Thursday: An Apple a Day for Both Teachers and Students

Friday: Head into the Weekend with Better than Recess Rollups

Boar's Head products are available at select supermarkets, gourmet stores and fine delicatessens nationwide. For more information about Boar's Head, new offerings and recipes, please visit boarshead.com, like us on Facebook at facebook.com/boarshead or follow Boar's Head on Twitter @Boars_Head.
*Contains 300mg of Sodium and 6g of Total Fat compared to 470mg of Sodium and 9g of Total Fat per 1-oz serving of Regular Pasteurized Process American Cheese.
About Boar's Head
Founded in 1905, Boar's Head Brand has upheld a commitment to unwavering standards for quality for 110 years, refusing to take shortcuts that compromise the integrity of its products for the sake of convenience or economy. What started with just a few products has grown to over 500, ranging from premium delicatessen meats, cheeses and condiments to an array of Italian and Old World specialties, hummus, snacking and foodservice items.
All Boar's Head meats, cheeses, spreads and condiments contain no fillers, by-products, artificial colors or flavors, gluten or trans fat. For more information, visit boarshead.com or facebook.com/boarshead.