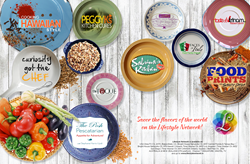 Our viewers can expect a whole new line-up of exciting programs this summer. Our team has hand-picked delightful programs, thoughtfully curated for our audience.
Redwood City, Calif. (PRWEB) August 07, 2015
Lifestyle Network announces its all-new programming line up and the recent premiere of new food programming titles. Several titles join the network's exciting roster of food shows which currently includes Curiosity Got the Chef with Chef Sharwin Tee, Lanai Tabura's Cooking Hawaiian Style, Sabrina Artadi's Sabrina's Kitchen, and more.
"Our viewers can expect a whole new line-up of exciting programs this summer," said Aileen Paredes, Channel Head for Lifestyle Network Global. "Our team has hand-picked delightful programs, thoughtfully curated for our audience."
Registered holistic nutritionist, culinary consultant, and alternative health It Girl, Peggy Kotsopoulos, teaches us how to achieve real health through a healthy lifestyle and dietary choices that are easy and truly delicious on Peggy's Kitchen, airing Saturdays at 11:30am Pacific.
Chef Robert Danhi takes us on a breathtaking Taste of Vietnam as he explores the country, cooks and partakes in deliciously exotic Vietnamese food, and mingles with the hospitable locals. Join us on weekly Tuesday explorations at 7:30pm Pacific.
Hosted by Chef Phillip Davenport, Toque 12 is a luxury guide to the best restaurants in Asia, featuring the top 12 chefs that flame the region into the emerging culinary destination of the world on Wednesdays at 7pm Pacific.
Additionally, Lifestyle Network has green-lit the local production of two new original series that will join its newly re-launched programming this year. The shows will highlight artists, food, and travel destinations.
On its first season, Spice to Life, now a 30-minute weekly show, will take viewers on a gustatory tour around the United States. Meet new chefs. Learn to make their specialties at home. Discover their favorite local food spots as they take you around their hometowns.
The inspirational and highly-artistic narrative is the focus of Design+Story, where artists' stories are told side-by-side. Discover some of the most exceptional craftsmen, visionaries, and iconoclasts of our generation and revel in their masterpieces.
SPICE TO LIFE
Spice to Life is a colorful, delicious, and touching series, where chefs and restaurateurs share their passion for food, culture, people, and their communities. It is delivered by a cinematic and visually-rich tale of how food has led them to industry fame. Each episode reveals their remarkable journeys and secret ingredients to their success, highlights their favorite local spots hidden from the average tourist, and demonstrates their signature dishes. The series is expected to highlight New York, Los Angeles, Hawaii, and wine country in its television debut. Spice to Life's first season will run for six half-hour episodes, produced locally by Lifestyle Network.
DESIGN+STORY
Design+Story thoughtfully narrates the magical, inspired, and colorful journeys of artists. Each episode introduces two artists, side-by-side, in a collaborative and self-told journey of their beginnings, inspiration, and craft. Featuring a mash-up of their live art, they visually convey messages of their methodology, uniqueness, intricacy, and the liberation of concept to masterpiece. Design+Story is a weekly 30-minute show, scheduled to debut later in the year on Lifestyle Network.
##
About Lifestyle Network:
Lifestyle Network is a living and travel TV guide that fulfills the lifestyle needs of modern Filipinos around the globe. A TFC premium channel, Lifestyle Network's programming is a unique combination of original and acquired shows airing 24/7 in English. Broadcast in the United States, Canada, Australia, New Zealand, and Europe, it is available through satellite, cable, and video on demand platforms. Based in Redwood City, California, the channel is owned by ABS-CBN International, a subsidiary of ABS-CBN Corporation - the Philippines' largest entertainment and broadcasting company, through ABS-CBN Corporation's wholly-owned subsidiary, ABS-CBN Global Hungary Kft. To find Lifestyle Network in your area and for exclusive content online, visit http://www.lifestylenetwork.tv.