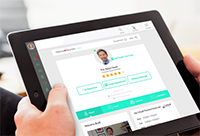 With this portal, I can track your progress, and "see" you at your convenience. It really allows all of our patients to get the most out of our programs."
Miami, FL (PRWEB) August 08, 2015
The Virtual Wellness Portal leverages the emerging technology of "Telemedicine." Telemedicine as originally envisioned, has brought healthcare to areas where there were not enough doctors, or where it was difficult for patients to travel to see a doctor.
Over the years, as telecommunications networks have grown and expanded, telemedicine services have also evolved to do so much more. Patients everywhere from stay-at-home moms, to busy CEO's are benefiting from "virtual visits" with their doctors.
HealthGAINS' newly launched Virtual Wellness Portal is the first such telemedicine application strictly designed to monitor and maximize the results of a physician guided age-management program.
According to Dr. Richard Gaines, Chief Medical Officer, "In order for our patients to get the most out of one of our age optimization programs, it requires constant monitoring, follow-up visits, adjustments, etc. But, we all have busy lives, and that can be difficult. With this portal, I can track your progress, and 'see' you at your convenience. It really allows all of our patients to get the most out of our programs."
Patients who are invited to join the Virtual Wellness Portal can access it and engage in live video conferencing from their computers, tablets, or other mobile devices. The portal can even link-up with Fitbit, or other wearable fitness devices to track and monitor a user's progress.
"Telemedicine saves time, saves money, reduces the costs of overall healthcare, and is even proving to improve patient outcomes," says Mark White CEO of HealthGAINS. "It is literally like bringing the doctor's office into your living room, or anywhere you have an internet connection."
# # #
HealthGAINS is one of the nation's leading providers of physician-guided age management solutions, including hormone replacement therapy, platelet rich plasma, and sexual wellness treatments for men and women. HealthGAINS has a network of over 25 affiliates throughout the United States. For more information, visit http://healthgains.com