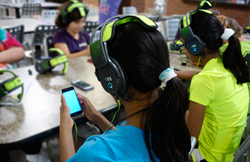 When I first saw Versus in action, I immediately recognized its potential to be a powerful training tool for youth education and development
Palo Alto, CA (PRWEB) August 07, 2015
PATHworks today announced the integration of Versus performance brain training into its Summer Academy curriculum. The announcement from PATHworks Founder & former US Olympian, Erica McLain, comes at the close of Summer Academy's second session.
Versus helps the students remain calm and focused when they need to, by teaching them to regulate the electrical activity in their brain. The student wears a 'brain sensing' headset and when her brain is in the correct state (focused, for example), they are rewarded through feedback in a game on the Versus app.
Simply put, she plays video games with her brainwaves.
"When I first saw Versus in action, I immediately recognized its potential to be a powerful training tool for youth education and development," said Erica McLain, PATHworks Founder. "I'm excited that our Summer Academy students are experiencing it firsthand. It completely supports our mission of developing students to be smart on the field and mentally tough in the classroom."
PATHworks Sports & STEM Summer Academy is designed to engage students with STEM (Science, Technology, Engineering, and Math) education through sports-based curriculum.
Austin Miller, SenseLabs' Co-founder and CEO said, "This is such an exciting partnership for us; Versus is poised to make a big impact in education. I still light up every time a student learns that the same training her favorite athlete uses for sports, is going to help her in school too."
One of the students, 12-year-old Alexandra, said, "The thing that I like about Versus is that it helps your brain by training you to focus more. In class, sometimes I have a hard time focusing, and I like that Versus can help me to get better with my school work and paying attention in class."
About PATHworks
PATHworks is an experiential learning company that uses sports to engage students with STEM (Science, Technology, Engineering and Math) education. The sports-based curriculum employs inquiry-driven projects, centered around enhancing athletic performance, to teach students 21st-century skills such as experimental design, data interpretation, and creative adaptability. Learn more at mypathworks.com.
About SenseLabs
SenseLabs is on a mission to improve human performance. Led by a team of science and startup veterans, the company commercializes mobile brain sensing technology and improvement algorithms. SenseLabs provides training protocols and cloud services that deliver quantified improvements in focus, impulse control as well as sleep and stress management. Versus is the first consumer product that brings this training to students, athletes, working professionals, and more. For more information visit senselabs.com.
About Versus
Versus is a brain sensing headset and app designed to help you improve the brain's contribution to performance — in school, sports, and more. From 3x Olympic gold medalist Kerri Walsh Jennings to doubles tennis great Mike Bryan, Versus is relied on by the world's premier athletes to perform at their mental best. The training is based on SenseLabs' research into how the brains of the highest performing athletes process information, focus, mentally shift gears, reset after an error, and recover from stress. For more information visit getversus.com.