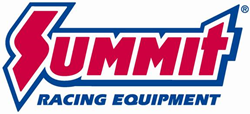 Tallmadge, OH (PRWEB) August 13, 2015
Summit Racing now carries ACCEL COP Supercoils for popular import vehicles with Coil On Plug (COP) ignition systems.
The Supercoils have silicone magnetic steel cores with optimized winding and turn ratios to deliver 10-15% more energy than OEM coils, which can help an engine more efficiently burn the air/fuel mixture in the combustion chambers. And that, of course, means more horsepower, better throttle response, and improved fuel mileage.
ACCEL COP Supercoils feature windings potted in high temperature epoxy to better resist damage from shock and vibration while increasing thermal conductivity. The coils are direct replacements for OEM coils and will work with all factory sensors. They are OBDII compatible and install in less than an hour. The coils are available individually and in packs.
The Accel COP Supercoils are available for Honda/Acura, Lexus, Mazda, Toyota/Scion, and Audi/VW vehicles.
Summit Racing Equipment
http://www.SummitRacing.com
1-800-230-3030