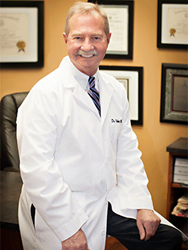 Kenosha, WI (PRWEB) August 10, 2015
New patients who require dental implants in Kenosha, WI, are now invited to schedule an appointment with Dr. Robert Becker. Dr. Becker is a periodontist experienced in the placement of regular implants, as well as All-on-4™ implant-supported dentures. Individuals with lost teeth are invited to inquire about long-term treatment options that will suit their needs further than traditional dentures.
Dr. Becker is pleased to now offer dental implants to Kenosha, WI residents. He also offers All-on-4™ implant-supported dentures to those who seek the affordability of traditional methods, with the durability surpassing the traditional denture appliances. In previous years, patients had access to very limited options concerning the replacement of their missing teeth. Most commonly, recommendations for tooth replacement options included only standard dentures and bridges. While these treatment options may be suitable for some scenarios, technological advances have provided more convenient and effective alternatives, including but not limited to implants and implant-supported dentures. The effects of these two procedures have been proven to deliver results of longevity, as well as eliminate the hassle associated with removable dentures.
Individual implants are ideal for those who have been affected by the loss of a few missing teeth. Although it can take several months to reach complete recovery, implants provide the strength simulated by natural teeth once they have been fully integrated into the jaw bone. People who have been affected by numerous missing teeth or those who require the replacement of teeth in the upper and lower jaw may not be able to afford traditional implants.
Implant-supported dentures combine the strength of implants with the affordability and convenience of dentures, creating the optimal solution for people who seek long-lasting, replacement results, without incurring the costly expenses normally accompanied with such procedures. Implant-supported dentures are designed to snap onto four strategically-placed implants, a technique securing the dentures in place, allowing patients to consume regular foods and speak clearly, without the concern of teeth falling out.
Individuals who have lost teeth for any reason are invited to receive All-on-4™ implant-supported dentures or dental implants in Kenosha, WI, from Dr. Becker. A consultation can be scheduled by calling Dr. Becker's office and speaking with an assistant during normal business hours.
About The Doctor
Dr. Robert Becker is a periodontist offering personalized dental care for patients in Racine and Burlington, WI. Dr. Becker is the founder of Lakeview Periodontal Associates and has been practicing dental medicine for over 30 years. Dr. Becker received his graduate and post-graduate degrees from Marquette School of Dentistry and his continued education in periodontics at Northwestern University Dental School. He has also studied Implantology at the prestigious Branemark Institute in Sweden, and is proud to have placed over 8,000 dental implants during his career. Dr. Becker is also a recipient of A Diamond Award, a prestigious recognition for being a Premier Nobel Biocare Provider. To learn more about Dr. Becker and the dental services he provides, please visit his website at http://www.teethin24hrs.com or call (262) 510-0414 for the Racine office or (262) 510-0381 to reach the Burlington office.