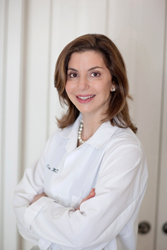 "Finally, there is a non-invasive treatment that everyone can take advantage of to improve their jawline and reduce their double chin!" said Dr. Isaac
Washington, DC (PRWEB) August 10, 2015
Washington, DC dermatology practice MI-Skin Dermatology Center is among the first in the area to offer Kybella to patients. Kybella, from Kythera Pharmaceuticals, is a brand-new FDA-approved injectable treatment that melts excess fat beneath the chin. Kybella is the first and only FDA-approved non-invasive treatment for chin fat, and Dr. Melda Isaac, director of MI-Skin Dermatology, is happy to be able to offer it to her patients who want to reduce their double chins.
"Kybella is a revolutionary treatment that I am excited to offer to my patients who are struggling with a stubborn double chin," said Dr. Isaac. "Many people are put off by the thought of liposuction of the neck, and now there is finally an alternative means of contouring the jawline, chin, and neck for those people."
Kybella works by using deoxycholic acid, which is a naturally occurring substance that helps to break down and absorb fat in the body, to destroy targeted fat cells while leaving surrounding tissue untouched. The destroyed fat cells are then naturally absorbed and eliminated by the body. Strategic injections of Kybella result in a gradual reduction of submental chin fat, thus reducing the appearance of a double chin.
"Many men and women of healthy weights and lifestyles suffer from double chins that make them look heavier than they actually are," explained Dr. Isaac. "Kybella can help those people to reduce their double chins and regain confidence in their appearance."
Double chins can be difficult to eliminate through diet and exercise alone, but Kybella can help to get rid of that excess fat in a non-surgical, non-invasive way. The injections need to be placed carefully in order to achieve even results and avoid any nerves or other potentially problematic anatomical features, so it is important to only have Kybella injected by a board-certified dermatologist who has undergone safety training for the injections. Kybella can also be used together with skin tightening devices, such as Ultherapy, in order to tighten any potential loose skin following treatment.
"I'm looking forward to helping my patients achieve their desired chin contour with Kybella," said Dr. Isaac. "Finally, there is a non-invasive treatment that everyone can take advantage of to improve their jawline and reduce their double chin!"
Dr. Melda Isaac is a board-certified dermatologist located in Washington, DC. Her practice, MI-Skin Dermatology Center, is a comprehensive skin care practice which offers the latest and most advanced state-of-the-art technology to improve the skin's appearance. Dr. Isaac obtained her medical degree from Penn State University, and completed her dermatology residency at George Washington University. She is an active member of the American Academy of Dermatology, the American Society for Dermatologic Surgery, the Women's Dermatologic Society, the American Society for Laser Medicine and Surgery, and the Washington, DC Dermatologic Society.
You can find out more about Dr. Isaac and MI-Skin Dermatology Center at http://www.mi-skin.com.