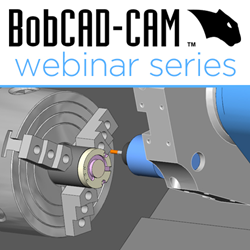 That's what these webinars are all about, showing how much easier programming can really be."
Clearwater, Florida (PRWEB) August 07, 2015
BobCAD-CAM's senior Technical Advisor, Cody Sheppard, to host an online event about how the new technology in BobCAD-CAM V28 Mill Turn software is making it easier to program CNC mill turn / multitasking machines.
Sheppard will talk about a few of the most important features that businesses owners, designers, and programmers are using to machine their parts faster, easier, and more efficiently.
"With the new Mill Turn software, BobCAD-CAM has really entered a whole new arena of machining power," explains Sheppard. "It offers countless programming tools that make cutting complex parts easier. The amazing thing is that these tools are really simple to use, it's just a matter of knowing the tools are there and what they can do for you. That's what these webinars are all about, showing how much easier programming can really be."
BobCAD-CAM's new Mill Turn software launched in mid-July 2015 alongside the company's new core Version 28 software. It supports nearly all mill turn, multitasking, and live-C machine configurations, which includes setups with multiple turrets, multiple spindles, programmable tailstocks & steady rests, part catchers, and machines with B (5 axis), C, and CY axis capabilities.
Host's CAD-CAM Credentials
The host for the webinar, Cody Sheppard, is a professionally certified BobCAD-CAM Software Operator with over five years experience as a Technical Advisor for CAD-CAM software. He's also completed advanced coursework through the SOLIDWORKS® training program. His day-to-day work connects him with machinists all over the world, showing business owners, designers, and machinists how to get the most out of their CNC programming.
Webinar Details
Name: "BobCAD-CAM V28 for Mill Turn"
Date: Wednesday, August 12, 2015
Time: 1:00 pm – 2:00 pm EDT
Registration Link: https://attendee.gotowebinar.com/register/7024429413937122818
Registration will be open through the start of the webinar, or until full. Space is limited, interested parties are encouraged to sign up early to secure a spot.
New Version 28 Mill Turn Software
BobCAD-CAM offers free demo copies of the new Version 28 and Mill Turn CAD-CAM software on BobCAD.com.
About BobCAD-CAM, Inc.
Clearwater, FL | http://www.BobCAD.com
For 30 years, BobCAD-CAM has been dedicated to designing powerful, user-friendly and affordable CAD-CAM software. BobCAD-CAM products are used in CNC machine shops and schools all over the world - helping to automate the programming process for mill, mill turn, lathe, router, plasma, laser, waterjet, and wire EDM CNC machines. The company also offers solutions for CAD, artistic CAD, nesting, solid machine simulation, custom post processors, comprehensive training, and support packages.