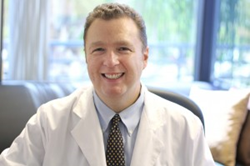 "It is also important to stress that uveitis is an ocular condition that can affect many people for a variety of reasons, and developing the condition does not mean a patient is suffering from Ebola infection..."said Dr. Tracy
Phoenix, AZ (PRWEB) August 08, 2015
In response to a recent article in the New England Journal of Medicine linking the Ebola virus and uveitis, an ocular condition that causes inflammation of the middle layer of tissue in the eye (the uvea), the American Academy of Ophthalmology issued a statement in May 2015 stressing that the incidence of uveitis in some patients recovering from the Ebola virus, such as American physician Ian Crozier, M.D., did not present a threat of infection to the general public.
Although traces of the Ebola virus were found in the fluid inside of the eye of a patient previously cleared of the virus through blood and urine tests, researchers in the study published in the New England Journal of Medicine found that the tears and the surface of the eyelids of the same patient did not contain traces of Ebola.
"The most important thing to take away from the Academy's announcement is that people should not panic, as there is no risk to the general public of contracting the Ebola virus through casual contact, or through the tears of a recovering patient for example," said Carlsbad ophthalmologist and LASIK eye surgeon Michael Tracy, M.D.
On its own, uveitis is a serious condition that can lead to blindness. The onset of symptoms can be sudden, and generally consist of eye pain and redness, sensitivity to light, and blurred and impaired vision.
"It is also important to stress that uveitis is an ocular condition that can affect many people for a variety of reasons, and developing the condition does not mean a patient is suffering from Ebola infection, or that every Ebola patient will develop uveitis. Anyone with a history of recurrent uveitis should see a general practitioner to rule out any systemic disease," added Dr. Tracy.
Dr. Michael Tracy is a board-certified ophthalmologist in Carlsbad, CA. He completed his residency training in ophthalmology at the Scheie Eye Institute at the University of Pennsylvania and his fellowship in Corneal and Refractive Surgery at the Bascom Palmer Eye Institute. Dr. Tracy specializes in LASIK and PRK surgery at his private practice at Carlsbad Eye Care.
To contact Carlsbad Eye Care, please visit http://carlsbad-eye-care.com or call (760) 603-9910.