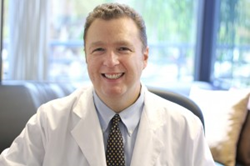 "The field of regenerative medicine is one of the most exciting developments to emerge in the last few years of research in the medical world," said Dr. Tracy
(PRWEB) August 12, 2015
In a recent study from St. Jude Children's Research Hospital, reported by Science Daily on July 2, 2015 in an article entitled "New Measurements Reveal Differences Between Stem Cells for Treating Retinal Degeneration," researchers placed two different types of stem cells into a 3-D culture in order to study the cells' ability to differentiate into retinal cells. According to the findings of the study, led by Michael Dyer, Ph.D., of the St. Jude Department of Developmental Neurobiology and an investigator at the Howard Hughes Medical Institute, stem cells derived from neurons, in this case "induced pluripotent stem cells," can be programmed to produce retinal cells under certain conditions, using the 3-D culture technique over more traditional models. The findings of the study were published in the July 2 edition of the Cell Stem Cell journal.
"The field of regenerative medicine is one of the most exciting developments to emerge in the last few years of research in the medical world," said Carlsbad ophthalmologist and LASIK eye surgeon Dr. Michael Tracy of Carlsbad Eye Care. "The possibilities for developing treatments for eye conditions and diseases that were previously incurable look very promising in the near future."
Stem cells are inchoate cells that can differentiate into more specialized cells in the body. In this study, the researchers at St. Jude were examining the cells' ability to differentiate into retinal cells, which could potentially hold the key to treatments for ocular conditions such as age-related macular degeneration and retinitis pigmentosa, both of which lead to progressive blindness.
"With as many as 10 million Americans affected by degenerative eye diseases like macular degeneration, discovering a successful application for regenerative medicine in producing viable retinal tissue would be revolutionary," added Dr. Tracy.
Dr. Michael Tracy is a board-certified ophthalmologist in Carlsbad, CA. He completed his residency training in ophthalmology at the Scheie Eye Institute at the University of Pennsylvania and his fellowship in Corneal and Refractive Surgery at the Bascom Palmer Eye Institute. Dr. Tracy specializes in LASIK and PRK surgery at his private practice at Carlsbad Eye Care.
To contact Carlsbad Eye Care, please visit http://carlsbad-eye-care.com or call (760) 603-9910.