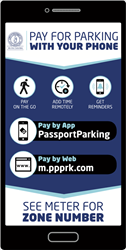 Columbia, SC (PRWEB) August 07, 2015
Drivers in the City of Columbia can pull out their phones to park. With Passport's mobile payment system, residents and visitors can use mobile parking payment technology in all of the City's 5,000 parking spaces. The app, developed by Charlotte, NC-based Passport, is free to download and gives users a much simpler option than paying at the parking meter.
"This installation of Passport is a large component of the City's initiatives to revamp our parking program," said John Spade, Parking Director for the City of Columbia. "We know that parkers in Columbia will embrace this upgrade in technology, and it will make the process of parking one less thing to stress about."
After thoroughly researching various mobile payment providers through a competitive bidding process, the City selected Passport, the industry leader in mobile payments for parking and transit to provide this service. Passport has successfully launched its mobile payment platform in cities like Chicago, Boston, Tucson, and even nearby in Charleston, SC.
Passport has also launched the City of Columbia's custom transit mobile ticketing system, called "Catch the Comet," throughout the City's bus lines. Through Passport's partnership with Central Midlands Regional Transit Authority, bus riders are able to pay for their bus pass and display payment directly from the Catch the Comet app on their phone.
"It's very exciting to bring our service to the City of Columbia's parking program," said Nate Berry, Vice President of Sales at Passport. "We're very proud to be making the process of getting around the City as convenient as possible, whether it be paying for parking, riding the bus, or visiting local businesses."
Passport's integration partner, HotSpot, has also joined the launch with their solution for small businesses. HotSpot provides smart beacon technology that allows businesses to connect with customers who use the PassportParking app. This way, users can validate their parking automatically.
This cutting edge technology launched in the City earlier this week. Besides paying to park through the app, users can receive a reminder notification before their session expires, extend their parking session up until the maximum allotted time, and validate their parking at participating locations.
The City's parking meters display signage instructing users to download the PassportParking app in the iPhone App Store or Android Google Play. Smartphone users can also use the new service by going to https://m.ppprk.com to create their account. If parkers do not have a smartphone, the sticker also displays a local phone number to call into.
About Passport
Passport is the industry-leading mobile payments company specializing in integrated urban mobility solutions. The company provides feature rich software platforms that offer parking and transit agencies a more effective and efficient way to manage their operations and serve their customers. Passport's mobile payment systems are deployed in over 1,000 locations in 43 states and provinces across the US and Canada, with clients such as Chicago, Toronto and Boston.
Headquartered in Charlotte, NC, Passport is backed by a highly respected group of investors, including Grotech Ventures and Relevance Capital. For more information, please visit http://www.gopassport.com
About HotSpot
HotSpot is a platform for businesses to connect with and reward their customers using small, low-energy, bluetooth sensors in stores to connect with apps on their customers' phones. HotSpot's platform communicates with the Passport app to help solve parking and keep customers in the business 13% longer.
We are privacy conscious. All services are strictly opt-in and customers can provide as much or as little information as they choose.
Visit http://www.hotspotmerchantsolutions.com for more information.