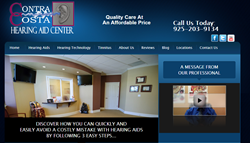 Brentwood, CA (PRWEB) August 07, 2015
Noise-induced hearing loss is induced by long-term exposure to sound volume above 85 decibels, and several of the sounds associated with day-to-day activities reach well above this level. As an example, according to Contra Costa Hearing Aid Center, an MP3 player at maximum volume can reach 105 decibels.
Extended exposure to excessive noise from MP3 players, along with other loud environmental sounds, places 1.1 billion people at risk for noise-induced hearing loss across the globe, according to the World Health Organization. Additionally, approximately 26 million Americans already suffer from the condition.
But noise-induced hearing loss is also preventable, according to Contra Costa Hearing Aid Center, and there are preventive steps that people can take to decrease the risk of developing long-term hearing loss later on in life.
In a recently published article titled 6 Ways to Save Your Hearing, Contra Costa Hearing Aid Center describes how people can preserve their hearing. In general, this is carried out in one of three ways: avoiding hazardous noise, decreasing the volume of excessive noise, and lowering the amount of time exposed to the noise.
In many cases, it is not possible nor desirable to escape potentially damaging noise entirely. In that case, the person has two choices: either find ways to reduce the volume or find ways to take routine rest breaks from the noise.
To mitigate damaging sound levels, Contra Costa Hearing Aid Center recommends wearing custom earplugs, which can reduce sound volume without creating the muffled sound commonly heard with the use of foam earplugs. Other strategies include keeping a safe distance from the sound source, keeping portable music players at a sensible volume, using noise-cancelling headphones, and taking consistent rest breaks in noisy environments, such as in recording studios or concert venues.
Contra Costa Hearing Aid Center also encourages regular hearing tests to ensure that an individual's hearing is not weakening, and if it is, to take early corrective measures for best results. Contra Costa Hearing Aid Center can also provide custom hearing protection solutions for special circumstances, such as for the specialized needs of musicians or construction workers, for example.
About Contra Costa Hearing Aid Center
Contra Costa Hearing Aid Center takes a consultative approach to hearing health care with an emphasis on patient education. In addition to providing hearing tests and fitting hearing aids in Walnut Creek CA, the staff provides support, counseling, advice, and rehabilitation.
Contact:
Toby S. Hill
Contra Costa Hearing Aid Center
http://www.contracostahearing.com