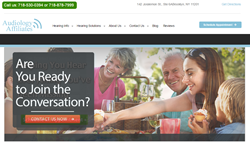 Several tinnitus therapy options are available to comfortably manage the condition and offer considerable relief to sufferers.
Brooklyn, NY (PRWEB) August 07, 2015
Tinnitus is a symptom characterized by the perception of a persistent ringing in the ears when no outside sound source is present. This phantom sound, which can also present itself as a buzzing, hissing, whistling, swooshing, or clicking sound, impacts an estimated 45 million Americans.
Tinnitus, being a symptom rather than a condition itself, is often a sign of an underlying problem. Certain conditions, such as blood vessel disorders or simple earwax buildup, can be corrected and the tinnitus can be resolved.
Oftentimes, however, the cause of tinnitus either cannot be established or is the result of noise-induced or age-related hearing loss. When tinnitus occurs with hearing loss, which is the consequence of damage to the nerves of hearing, tinnitus usually cannot be cured. However, according to Audiology Affiliates, several tinnitus therapy options are available to comfortably manage the condition and offer considerable relief to sufferers.
In a recently published article titled Understanding Your Tinnitus Treatment Options, Audiology Affiliates identifies the tinnitus therapy options currently available as well as some of the encouraging research presently taking place.
Since tinnitus is often linked with hearing loss, wearing hearing aids can supply the individual with the combined benefit of better hearing and tinnitus relief. As hearing aids enhance the volume of ambient sound, the sounds associated with tinnitus become less noticeable.
Another effective treatment option is sound therapy, which includes a broad collection of treatments that use external sound to mask the tinnitus. The external sound can be delivered through special masking devices, through a portable music player, or through a pair of hearing aids. Hearing specialists can also tailor the masking sounds to correspond to the frequency of the patient's tinnitus for optimal results.
Other treatment options include behavioral therapies that deal with the psychological and emotional elements of hearing loss, and Tinnitus Retraining Therapy, which combines behavioral therapies with sound therapy. Drug therapies, experimental therapies, and general wellness tips are also covered in the article.
The full article can be read here: http://www.kisielhearing.com/understanding-your-treatment-options-for-tinnitus/.
About Audiology Affiliates
Audiology Affiliates has served the Brooklyn, New York area and its surrounding communities for years. They are pleased to offer a full range of diagnostic and preventative hearing healthcare professional services including hearing aid screening, hearing evaluations, hearing aids and accessories, rehabilitative counseling, and preventive care advice.
Contact:
Dennis L. Kisiel, Ph.D
Audiology Affiliates
http://www.kisielhearing.com