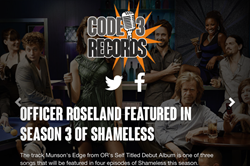 Wanna hear what Officer Roseland does next? Be a part of it ! Visit Officer Roseland's Kickstarter page and kick start their next album !
Philadelphia, PA (PRWEB) August 19, 2015
With the release of the landmark album Stimulus Package, Officer Roseland garnered global attention from fans and the music industry. Essentially "one upping" the pay-what-you-want campaign that many bands were employing to sell records at the time, Officer Roseland assured their place in the conversation of music history for being the first band ever to give their literal marketing dollars directly to the music buying public. While the overwhelming response of giving fans a dollar to download their album Stimulus Package was more successful than anticipated by the band, the massive response by the public caused the band to plead for a bail-out and suspend any future payments due to a lack of funding. The total cost of this concept and album release completely depleted the substantial funds the band had put aside. However, the members of Officer Roseland were not bankrupt when it came to creating music. Soon after the band requested a "bail-out" the members of Officer Roseland (minus a long time member) decided to work under a new name. This was a strategic move by the remaining members who wanted some anonymity and distance from the recent frenzy surrounding the hugely successful release of Stimulus Package.
Spending a stint under the new name Couples Only, the members of the band released 2 albums of new material and toured heavily in support of the music. Interestingly the "new" band became a critical darling and once again the members found themselves gaining the attention of the music world. But in typical fashion, the band again decided to change their name right when things started looking bright. With their latest release, Dynamite Road, the boys decided to come full circle and proudly returned to working as Officer Roseland. "This return to their former namesake is no gimmick," as Frank Phobia lead singer of Anthrophobia, producer of Dynamite Road, and all around nice dude recently said, "these guys throw away songs that other bands wish they had written."
Currently, Officer Roseland has been enjoying the success and publicity that has resulted from the Showtime original series "Shameless." The producers of the show have used 4 songs from the band in several episodes from current and past seasons. Officer Roseland has also been playing numerous shows and testing new material live in preparation for the recording of a new full-length studio release.
In true Officer Roseland fashion, the band have offered some unique Kickstarter rewards including a concept album of a lucky fans life and a car currently driven by the bands drummer, John Ilisco, Jr.
Wanna be a part of Officer Roseland's new project? Visit Officer Roseland's kickstarter page.
For more information about Officer Roseland, visit http://code3records.com