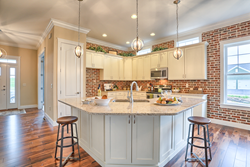 (PRWEB) August 17, 2015
Landmark Homes, one of Central Pennsylvania's leading local homebuilders, has added a new online design gallery to their website. Landmark Homes offers over 80 floor plans in its 35+ communities. The new online design gallery enables prospective home owners to view interior selections such as cabinetry, paint and flooring and exterior selections like siding, windows and roofing while starting the design of their new home online. To access, visit http://www.ownalandmark.com, choose a community and an available plan for that community, then click online design gallery. Interested buyers can register to create an account, select the options and save them to their wish list. Once they choose to purchase a Landmark home, future homeowners receive a personalized online Design Gallery account that includes pricing for all of their selected options. The online Design Gallery's intent is to make the decision making process, during the in-house Design Gallery appointment, a smoother, faster and educated experience. The in-house Design Gallery is part of Landmark Homes' corporate office. It's not a stockpile of product catalogs but instead, room-size installations and décor. The online design and in-house Design Gallery saves both time and energy keeping all the selections in one convenient location.
About
Landmark Homes is an award-winning, family-owned designer and builder of new homes and communities in Central Pennsylvania, founded in 1998 by brothers Cliff and Clair Weaver. They founded Landmark Homes on the belief that every new home should be as unique as the family that built it.
Every Landmark home is constructed with quality, name-brand products and you'll find design elements and features in their homes that other builders consider options (and will charge you extra for) or may not even offer. Landmark homes can build in their communities or on a client's lot. The homes can be found in 5 counties throughout Central PA including Berks, Cumberland, Dauphin, Lancaster, Lebanon and York. Complete customization is possible with Landmark Homes from where to build, to structural and Design Gallery options, to your own options. Landmark Homes is sure to build a home that suits your style, needs, and budget.