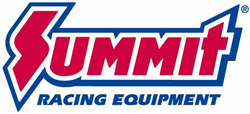 Tallmadge, OH (PRWEB) August 14, 2015
McLeod's Musclecar 5 Five-Speed Transmission has a slender aluminum case—similar in size to a GM Muncie four-speed—so it will fit in tight factory transmission tunnels without the need to cut sheetmetal. What's more, the Musclecar 5 is built to handle up to 500 pounds-feet of torque.
Other Features

8620 forged steel gears
Fully synchronized gears for smooth shifting and quiet operation
Internal rail shift for quick shifts
Front cover bolts directly to factory GM bellhousings
Gear Ratios
First: 2.95:1
Second: 1.99:1
Third: 1.34:1
Fourth: 1.00:1
Fifth: 0.63:1 overdrive
The McLeod Musclecar 5 transmission is currently available for GM applications that use a 1.25 inch, 26-spline input shaft and a 32-spline output shaft.
Summit Racing Equipment
http://www.SummitRacing.com
1-800-230-3030