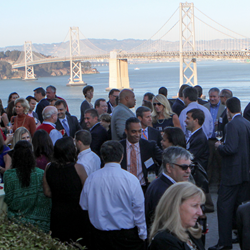 "This was definitely one of the best asbestos conferences I have attended in a long time. Fresh ideas, provocative and knowledgeable speakers, and a very engaged audience..." Cindy Koehler, Liberty Mutual
Berwyn, PA (PRWEB) August 10, 2015
Perrin Conferences' faculty roster for its 2015 Asbestos Litigation Conference: A National Overview & Outlook is a veritable "Who's Who" in asbestos litigation. This matchless group of asbestos experts includes plaintiff and defense litigators, judges, academics, in-house counsel, insurance professionals, risk managers, and medical experts. To view the conference agenda and entire list of speakers, please visit here.
Some of the notables presenting include:

Holly Harris, Esq., Senior Counsel, Chevron Products Company
Paul Slater, Esq., Senior Counsel, General Electric Company
Heather M. Ignaffo, J.D., Insurance, Litigation & Liability Risks, The Boeing Company
Shiela J. Koppenheffer, Regional Director, Travelers
Bob Sampson, Vice President of Claims, The RiverStone Group
Dr. David Weill, Professor of Medicine, Director, Center for Advanced Lung Disease, Stanford University Medical Center
Dr. Victor Roggli, MD, Pathology/Pathology Clinical Services, Duke University School of Medicine
Prof. Samuel Issacharoff, New York University School of Law
The Honorable Teri Jackson, Asbestos Department Judge, San Francisco
The Honorable Arnold L. New, Court of Common Pleas, Coordinating Judge, Complex Litigation Center
David A. Warren, Account Manager, Resolute Management, Inc.
Bree H. Kame'enui-Ramirez, Litigation Attorney, Weyerhauser Company
Panels and events taking place during this three-day conference will highlight the complex legal, scientific, and insurance implications associated with asbestos litigation. Panel topics and events will include:
national trends driving asbestos litigation
new frontiers in asbestos-related disease and causation
legislative and jurisdictional updates
insurance, corporate, and judicial roundtables
the impact of bankruptcy on litigation strategies
a mock trial demonstration
Young Lawyers "Meet the Experts" luncheon
Women in Business luncheon
The 2015 conference is being chaired by

Nina Lynn Caroselli, Esq., Chief Operating Officer/Senior Vice President Claims, RiverStone Claims Management, LLC, Manchester, NH
John B. Manning, Esq., Manion Gaynor & Manning LLP, Boston, MA; and
Joseph F. Rice, Esq., Motley Rice LLC, Mt. Pleasant, SC
In addition to providing exclusive opportunities for learning, networking, and information sharing, this conference offers Continuing Legal Education (CLE) Credit and CE Adjuster Credit for qualified candidates. For more information, registration, and hotel accommodations, please visit http://www.PerrinConferences.com.
* * About Perrin Conferences: As the leading national provider of joint plaintiff/defendant litigation conferences, Perrin Conferences offers comprehensive and specialized continuing legal education (CE/CLE) in an atmosphere of learning, networking and sharing. The company's conferences and other programs attract influential leaders and foremost talent in the legal industry to discuss current topics in litigation through mock trials, presentations and webinars, setting the standard in professional litigation education and networking. # # #