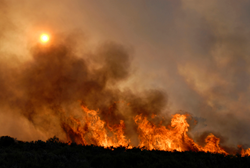 LINCOLN, R.I. (PRWEB) August 07, 2015
This is the time of year when wildfires are most prevalent, so Amica Insurance is sharing tips to help keep your home safe.
According to the National Fire Protection Association, local fire departments respond to more than 300,000 brush, grass and forest fires per year. That's why Amica is sharing the following tips from the Insurance Institute for Business & Home Safety to help protect homes from wildfires:

Keep five feet between the home and the land adjacent to it by laying down noncombustible materials like gravel, brick or concrete.
Leave six inches between the ground and siding, and consider installing noncombustible siding.
Clear debris from the roof, as it can be ignited by wind-blown embers.
Clean out gutters regularly to avoid buildup of debris. Noncombustible gutter covers are also a good option.
Use multi-pane, tempered glass windows, and close them when a wildfire is near.
About Amica Insurance
Amica Mutual Insurance Co., the nation's oldest mutual insurer of automobiles, was founded in 1907. The company, based in Lincoln, Rhode Island, is a national writer of auto, home, marine and umbrella insurance. Life coverage is available through Amica Life Insurance Company, a wholly owned subsidiary. Amica employs more than 3,400 people in 44 offices across the country. For more information, visit Amica.com.
Contact: Vince Burks, Corporate Communications, 50 Amica Way, Lincoln, RI 02865-1155, 800-652-6422, ext. 24563
Twitter: Amica
Facebook: Amica Mutual Insurance Co.