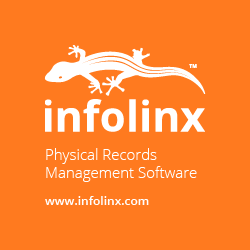 Kensington, MD (PRWEB) September 29, 2015
Today, Infolinx System Solutions™, a leading provider of enterprise physical records management software, announced the upgrade to Infolinx WEB 3.4 at the City of Austin from Infolinx WEB 2.4. The Office of the City Clerk (OCC) supports the City's goal of transparency by preserving and providing public access to Council-approved documents, promoting City-wide compliance with records retention laws and facilitating the legislative process.
Housing records in microfilm, file folders and boxes, the City utilizes Infolinx to ensure timely, efficient and accurate retrieval of information when needed. In addition to migrating from an Oracle to a SQL Server database at the time of the upgrade, Infolinx continues to provide a seamless integration to the City's holdings stored off site with Iron Mountain
"The City of Austin's partnership with Infolinx continues to be an enormous benefit to the City's records management program. The system is an indispensable part of our daily records center operations and has greatly enhanced our ability to support City departments. As expected, the upgrade project has progressed smoothly and the folks at Infolinx have been extraordinarily responsive to our needs. I'm very excited about rolling this latest version of the application into production" said Bob Guz, City Records and Information Management Officer.
About Infolinx®
Infolinx System Solutions is a leading provider of DoD5015.2-certified enterprise physical records management software. Full life-cycle records management for archives, records centers, and file rooms includes integrated Enterprise Content Management, third-party warehouse integration, robust searching, online requesting, complete audit history, location reconciliation, supply item ordering, retention schedule and legal holds management, integrated RFID technology, space management with charge-back functionality, extensive reporting capability, advanced security configuration, workflow email notifications, and legacy data sharing. Available as an on-premises or cloud-based solution, Infolinx maintains clients within all major business segments and the public sector. Infolinx System Solutions Demo