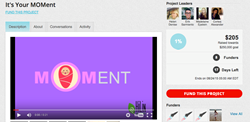 With the support of the crowdfunding campaign, we hope to impact the lives of women worldwide.
Newark, NJ (PRWEB) August 07, 2015
HilinLife has launched Its Your MOMent™ through a crowdfunding campaign and is looking for support to develop the next generation product. MOMent™ is the 2nd Generation product following, KNOWHEN® Saliva Fertility Monitor. The MOMent™ is designed to take the best functionality of KNOWHEN® and take it a step further.
"We're thrilled to have taken another step towards women empowerment and personal fertility with the launch of our crowdfunding for our latest product. With the support of the crowdfunding campaign, we hope to impact the lives of women worldwide," says creator and founder of HilinLife Products, Helen Denise.
The MOMent™ has a global mission to provide a solution to the growing infertility problem. "Infertility is not an epidemic but a lack of knowledge and the right devices," says Denise. MOMent™ is a home diagnostic device, which will pinpoint the time of ovulation in seconds.
The device connects to a woman's smart phone or computer and allows the user to connect to their physician to transfer information with just a click. No co-pays or taking time off from work to sit in doctor's office. The MOMent™ product will be a durable reusable device and the app for the user and the doctor is free.
Benefits the MOMent™ product will provide include:

Natural Family Planning
Monitors Personal Fertility Health
Assists with problems conceiving
HilinLife Products encourages people to visit the crowdfunding page to join the mission, donate and take part in the product growth.
To learn more and visit the crowdfunding platform please follow this link: https://www.rockethub.com/projects/59041-it-s-your-moment
About KNOWHEN®
KNOWHEN® Saliva Fertility Monitor is the most accurate product of its kind to tell you when you are ovulating. Clinically tested 98% accurate, it is easy to use, convenient and 100% safe. It is registered and cleared by FDA and can be reusable for years.