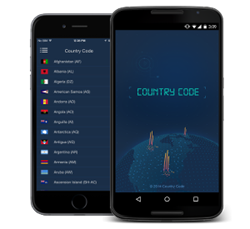 (PRWEB) August 10, 2015
For world travelers and anyone with contacts in many nations, keeping telephone country codes straight can be a chore. A new iPhone and Android app called Country Code Dialer organizes those codes behind the scenes, making it much easier to stay in touch.
Country Code Dialer is available now for $1.99 on the iTunes App Store and Google Play.
The dialing app accesses contacts already stored on the phone. The user opens Country Code Dialer and selects the desired contact. The app analyzes the number, judging whether or not it can be successfully dialed from the caller's current location.
If a country code is needed and is not present, the app offers a list of countries, illustrated by their national flags. When the user selects the contact's country, the correct country code is automatically applied to the call. From there, the phone's default dialer app takes over.
Country Code Dialer also stores recent calls, including country and time of call.
The app's creator, James VanLiere, was frustrated by needing to write down country codes and contact numbers while traveling in Amsterdam. "The Country Code Dialer app will merge contacts with country codes in almost every country in the world," he said. "I hope you will give it a try and simplify your international calling."
About the Developer
Zco Corporation is a tried-and-true software development company that has been living and breathing technology for over 25 years. A proven and reliable vendor choice, Zco is passionate in its mission to create attractive, resilient products for its clients. Its powerhouse team, one of the largest in the world, was handpicked for specialties in mobile app development, enterprise software, and animation services. To learn more, visit Zco.com or call 603.881.9200.