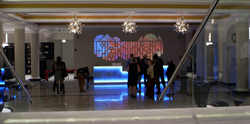 We do projects from the ground up and we can come in half way through. In either case, we're always primarily concerned with creating an impressive piece of art for the client
Chicago, IL (PRWEB) August 10, 2015
Chicagoland-based 3D projection display company Chicago Projection Mapping is proud to announce the completion of a recent permanent installation. Permanent projection mapping installations have recently become a popular way for businesses and property owners to add a sense of awe and prestige to their entranceways, lobbies, and other publicly visible areas. Chicago Projection Mapping's recent completion featured just such a lobby installation. This particular display featured basic yet client ready images. Due to their expertise in projection mapping and 3D technology, Chicago Projection Mapping was asked to consult halfway through this project and helped bring it to completion.
In this particular case, the client wanted an installation that would run all day. This isn't an uncommon request, as many permanent 3D installations for businesses function as high-end, futuristic artwork, running on a loop that can keep passers-by entertained and impressed. Sometimes these installations are more complex, offering an interactive experience to those who have time to engage without sacrificing an overarching aesthetic presence to the more casual passer-by. By consulting on this project, Chicago Projection Mapping was able to help guarantee that the client would receive the proper set up to ensure a continuous, effective setup that would provide interest and prestige day in and day out.
"We're asked to consult on projects such as these on a fairly regular basis," said Mark Smith, owner and founder of Chicago Projection Mapping. "We do projects from the ground up and we can come in half way through. In either case, we're always primarily concerned with creating an impressive piece of art for the client: something that will turn heads and provide some interest and conversation. And it's turning out to be quite the trend." Smith went on to explain that in the years since 3D projection mapping was introduced as fringe technology, it has gone on to be one of the most sought after and demanded technologies for corporate and business settings. That trend continues to grow, and permanent 3D projection mapping installations for businesses become more popular.
Three-Dimensional Projection Mapping is a way of displaying a projection on a permanent piece of architecture, rather than a simple, flat screen. Most of these projections, then, take advantage of the architectural features and incorporate them—or play off of them--in the content of the projection. Permanent installations in lobbies and business environments are primarily designed to make an impression and create an atmosphere. For example, clients that visit a business will be impressed by the investment in technology or the innovation displayed in the content of the installation. Employees may be motivated by the same traits or may find inspiration in the design and artistry that is always on display.
For these reasons, and more, permanent 3D installations are becoming a trend in high-end business settings. Chicago Projection Mapping has helped create a large number of these permanent installations, working in high-end condo suites, hotels, and large corporate environments. The focus of each project at Chicago Projection Mapping is to create a unique, interesting, and affecting piece of technology. Bringing their years of experience in this cutting edge field to each client's desires and demands allows the team at Chicago Projection Mapping to synthesize innovative content and prestigious technology. The end result is a feature in a corporate lobby or business setting that will add to a company's distinctiveness and prestige. Parties interested in consulting or planning the installation of a permanent projection mapping display can contact Chicago Projection Mapping at info(at)ChicagoProjectionMapping(dot)com.
About Chicago Projection Mapping: Based in Chicago, IL, Chicago Projection Mapping is a full service content creation and 3D projection mapping company, serving the corporate, event, meeting, and convention sectors. For more information, please visit http://www.ChicagoProjectionMapping.com, or call 630-620-0000.
Main Chicago Offices 630.620.0000
Email us at Info(at)ChicagoProjectionMapping(dot)com
CPM capabilities
Permanent Projection Mapping Installations
3D and 4D Projection Mapping Design
Temporary Installation
Consultation on All Aspects of Mapping Process
Show Design and Integration
Pre-Visualization, including storyboards and renderings
In-House 2D and 3D Animation Team
Custom Interactive Design Capabilities
Asset Reconguration for Brand Consistency
Integration with all major video and media formats
Custom Media Servers for awless operation
Experience with all standard mapping hardware and software
Partnerships with regional and national hardware vendors
On-Site Setup, Mapping, and Event Operation
Remote access and operation for permanent installations
For more information, please visit http://www.ChicagoProjectionMapping.com, or call 630-620-0000.