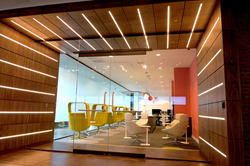 Stanhope is an unique student housing community and we're thrilled to welcome all of our residents for a great year ahead.
RALEIGH, N.C. (PRWEB) August 10, 2015
Kane Realty Corporation, a Raleigh-based development and management company focused on mixed-use properties, announced today that its new upscale, off-campus student housing community, Stanhope, has completed construction and will have residents moving in by August 15.
Located just steps from North Carolina State University and less than one mile from Meredith College, Stanhope is situated at 3001 Hillsborough Street. Named after the historic Stanhope neighborhood, the mixed-use community offers residents easy access to shopping and restaurants such as CVS and IHOP as well as environment-friendly amenities including electronic car charging stations, recycling rooms on every floor, a bicycle storage room and more.
"We wanted to create a new level of student living for Raleigh and I feel we've really accomplished that with Stanhope," said John Kane, CEO of Kane Realty Corporation. "We are excited for our residents to move in and enjoy the amazing amenities and conveniences available to them."
Stanhope provides students with a wide range of amenities, such as a cyber café equipped with iMacs, PCs, iPads and a commercial printer, a game room with 6 TVs, a pool table, free arcade and video gaming, a fitness center with top-of-the line cardio and weight machines, a saline pool and outdoor TV lounge, an art studio and multiple wired study lounges to create an ideal community for residents to live, study and play. Residents were able to choose from a variety of spacious floor plans including studio, one-, two-, three- and four-bedroom options. The individual apartments come fully-furnished and include Energy Star appliances, granite countertops, a smart key unit entry system, smart-televisions with cable and HBO, wi-fi and more.
Kane Realty Corporation partnered with the NCSU School of Design to create and install original artwork throughout the building created by students and faculty. Contests were held for 2D and Digital Art, with winners receiving cash prizes, prominent installation placement within the community and recognition plaques.
"Stanhope is an unique student housing community and we're thrilled to welcome all of our residents for a great year ahead," said Joe Goodwin, senior vice president of marketing for Asset Campus Housing. "Working with Kane Realty Corporation to bring Stanhope to life has been a great experience and we look forward to managing this community."
Stanhope was designed by the Durham office of Little Diversified Architectural Consulting and constructed by Clancy & Theys Construction Company.
For more information about Stanhope, please visit http://www.livestanhope.com or in-person at the residential leasing office located at 3001 Hillsborough Street.
About Kane Realty Corporation
Kane Realty Corporation (KRC) is a full service real estate development and management company focused on office, retail, multi-family and mixed-use properties of the highest quality. Based in Raleigh, NC since 1978, KRC is dedicated to the goal of creating irresistible places where people will naturally want to gather. Through meticulous attention to detail in every aspect of the property from design and construction management to leasing and property management, Kane's mission is to build places that improve the quality of life of their businesses, their employees, residents and visitors. For more information, please visit http://www.kanerealtycorp.com.
About Asset Campus Housing (ACH)
Headquartered in Houston, Texas, Asset Campus Housing, Inc. ("ACH") is an affiliate of Houston-based Asset Plus Companies, a third party property management firm specializing in real estate services for investors, developers, and owners. Asset Campus Housing manages a student housing portfolio of more than 115 properties, exceeding 65,000 beds located throughout the United States. http://www.assetcampus.com.
About Little Diversified Consulting
Little, an international architecture and design firm with an office in Durham, is recognized for developing exceptional design solutions that generate business results in the community, workplace, healthcare and retail industries. With over 330 professionals, Little delivers results beyond architecture by combining expertise in traditional architectural services (architecture, engineering, interior architecture) with proficiency in additional diversified architectural consulting services (land development services, facilities planning and space management consulting, graphic design, building technology applications, and computer animation and internet application services). For more information, please visit http://www.littleonline.com.
About Clancy & Theys Construction Company
Clancy & Theys Construction Company—headquartered in Raleigh, North Carolina— has long been known for its spirit and practice of collaboration. The 66-year-old company is led by brothers Tim and Tick Clancy. The company is a leading constructor of multi-family/student housing projects in North Carolina and is a prominent builder of office buildings, college/university facilities, hotels, religious and cultural buildings, and warehouse/distribution projects. Clancy & Theys also has offices in Wilmington and Charlotte, N.C.; Newport News, Virginia; and Orlando, Florida.