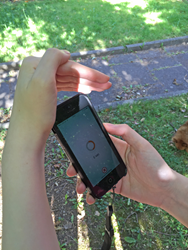 We do have a lot of weather in Britain, so maybe that is why it is more of a problem for us!
Cardiff, UK (PRWEB UK) 10 August 2015
Specialist nature app developers, iSpiny, were't expecting to uncover national stereotypes when they analysed the recordings sent in from their latest app.
The ChirpOMatic app is an automatic birdsong identifier; point the app at a singing bird and the app will tell you what it is. Users have the option of sending their recordings to iSpiny to help to develop the app and to contribute to research into bird song, and bird populations.
As well as analysing the correctly identified recordings, iSpiny also analysed the recordings that were not identified and this was where the national stereotypes appeared.
Dr Hilary Lind from iSpiny explains: "The app doesn't work if it can't hear any birds, so we decided to look more closely at why this might happen. After all, we assume that nobody would set out to make an inaudible recording! To our surprise, we noticed a pattern emerge."
Analysis showed that most British recordings failed as a result of the wind blowing across the microphone - a scenario familiar to anyone who has tried to video an outdoor wedding. The wind creates a loud roar on the recording, masking everything else.
German recordings failed mainly because people continued loud conversations while recording the bird.
And Swedish recordings mainly failed because the bird was so far away and so quiet that it was masked by the sound of the internal workings of the phone, or even by the sound of the person breathing.
Dr Lind thinks that some of this makes sense. "The reason that Brits are so famous for talking about the weather is that we do have more of it than many other countries, so it isn't surprising that wind is more of a problem for the British than for Swedes and Germans. As for Swedes and their distant birds, maybe it is because they can actually hear birds that are miles away as they are not drowned out by traffic noise. But why the Germans tend to talk over their recordings is a mystery!"
Examples of failed recordings (wind, voices, breathing) on Soundcloud