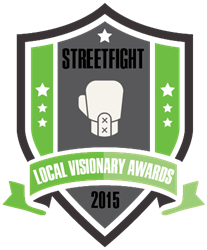 "A disruption has been taking place in local... we're thrilled to recognize some of the outstanding products and services in the marketplace."
Boulder, Colo (PRWEB) August 10, 2015
Today, Street Fight, the leader in information and events about the connected local economy, announced the launch of the Local Visionary Awards, a 10-category competition honoring the very best campaigns, products, and ideas in local.
The awards will be presented to winners as part of the program on Oct. 20th in New York City at Street Fight Summit 2015. For the past four years, Street Fight Summit has brought together the top-level executives in local digital marketing, and the Local Visionary Awards will acknowledge individuals and brands whose contributions are moving the industry forward.
The awards will recognize achievement in several categories, including:
Products & Services -- acknowledging tech solutions for both SMBs and enterprise brands
Campaigns -- across multiple channels including mobile, and use of data for targeting
Partnerships -- to reward collaboration between players in space
Innovator of the Year -- honoring an individual who has made significant contributions to the field
"A disruption has been taking place in local, with thousands of companies and individuals producing some very exciting, groundbreaking digital solutions that create new ways for local businesses to connect with local consumers," said Laura Rich, CEO of Street Fight. "We have been celebrating these developments since 2011, and we're thrilled to now specifically recognize some of the outstanding products and services in the marketplace."
The winners in the Products & Services, Campaigns and Partnerships categories will be determined by a panel of judges, including David Card, Director of Research for Street Fight Insights; PagePart CEO Randy Parker; Closely CEO Perry Evans; and Co-CEO of WPP's The Store Gwen Morrison.
For the Innovator of the Year award Street Fight will crowd-source the nominees through an open poll available on the Street Fight website. "We didn't want to limit the nominees in this category," said Street Fight CEO, Laura Rich. "But wanted to hear from our audience firsthand who they think is deserving of this title. It's going to be a lot of fun to watch this unfold."
Submissions for the Local Visionary Awards will be open from August 10, 2015, through September 18, 2015. Finalists will be announced on or around October 1, 2015 and winners will be announced live at Street Fight Summit 2015 in New York City on October 20, 2015.
"The Summit is the perfect backdrop to host the awards ceremony," said Street Fight COO David Hirschman. "The room is filled with the best and brightest names in the field who've come together to share their insights and continue to move the industry forward. I'm confident these awards will spark even more interesting dialogue about what's coming next in this dynamic industry."
Organizations of all sizes as well as individuals are encouraged to participate.
For more information on the Local Visionary Awards and a complete list of entry requirements, visit Streetfightmag.com
About Street Fight:
Street Fight is an integrated media company focused on the business of hyperlocal marketing, commerce and technology. Street Fight produces a daily industry newsletter, publishes commentary, original research, case studies, and how-to articles on their website, and hosts a series of live annual events to help the hyperlocal ecosystem achieve sustainable business models. To learn more, visit http://streetfightmag.com or contact us directly at info(at)streetfightmag(dot)com.