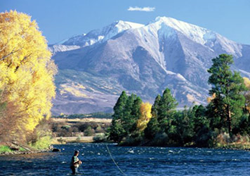 Together, Antlers at Vail, Fly Fishing Outfitters and 10th Mountain Whiskey & Spirit create a trifecta of only-in-Colorado fall adventure.
Vail Colo., (PRWEB) August 11, 2015
Catch your limit of Colorado's big brown trout, wet your whistle with a sampling of some of the best charred oak barrel whiskey currently being produced – and then follow it up with some true R&R in the Vail Valley's most attentive, amenity-filled accommodations, all during Colorado' most vibrant season. The Vail Valley Platinum-rated Antlers at Vail hotel is offering a new "Flights & Flies" two-night lodging-and-lifestyle package Sept. 1 – Nov. 15, 2015, for those guests eager to immerse themselves in some of the Rocky Mountains' most popular pastimes.
It's only fitting that a property like the Antlers at Vail – on the banks of Gore Creek and deeply rooted in the Vail community – would team up with the pros at Fly Fishing Outfitters (the only Orvis-endorsed guide service in the valley) and the 10th Mountain Whiskey & Spirit Co., a new Vail craft distillery and tasting room genuinely steeped in the Army infantry division's uniquely Colorado past. Together they create a trifecta of only-in-Colorado fall adventure.
Cost for the package is $324 per adult (double occupancy and excluding lodging tax – but the Antlers at Vail never charges a resort fee) for two nights in a one-bedroom condo. Included in the package is a half-day guided wade trip in prime trout country from the Eagle River to the Roaring Fork with Fly Fishing Outfitters, who will provide flies, waders, boots, rod and reel (guest must purchase Colorado fishing license). Package also includes two vouchers to 10th Mountain Whiskey & Spirit Co.'s tasting room, where each guest will be treated to a flight of five of the distillery's locally crafted spirits, a souvenir rocks glass and a $5 gift certificate good toward a merchandise purchase.
Antlers at Vail was recently awarded Vail's Platinum lodging ranking, part of the Lodging Quality Assurance program managed by Vail Valley Partnership. The program provides a standardized rating system for all units rented through the Vail Valley's central reservation systems with Platinum representing the highest level of room appointments. The Antlers has spent more than a year renovating its lodging to meet stringent Platinum guidelines. Because the Antlers' guest suites are independently owned condominiums, rather than taking a 'cookie cutter' approach, all of the renovations are custom designed, with the numerous interior upgrades including granite countertops, stainless appliances, new flooring, new lighting and entertainment systems, new fireplaces, furnishings and much more.
About Antlers at Vail
The Antlers at Vail hotel offers a relaxed Vail lodging experience in a fabulous mountain setting and was recently awarded Vail's highest-level Platinum lodging rating, as well as the TripAdvisor Certificate of Excellence and GreenLeader status. With condominiums ranging from studio suites up to four-bedroom penthouses, every unit at the Antlers enjoys a fully equipped kitchen, fireplace, private balcony, daily maid service, and complimentary Wi-Fi and parking. The Antlers has an A+ location on the banks of Gore Creek, just steps from restaurants, galleries, shops, free Vail town shuttle and the Lionshead Gondola. For more information and reservations visit http://www.antlersvail.com.
Media Contact: Anne McGregor Parsons, WordenGroup Public Relations, anne(at)wordenpr(dot)com, 303.777.7667