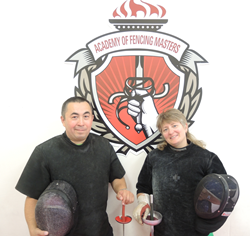 Campbell, CA (PRWEB) August 10, 2015
Anastasia Churkova is an established and incredibly respected coach, referee and competitor in the highest levels of fencing competition. Having trained both national and international level competitors who have medaled at every level of competition, Anastasia has worked with both the cadet and junior national teams of Russia. Anastasia helps her students to sharpen their skills in order to compete more effectively through her energetic and supportive, but also firm and detail oriented training techniques. Academy of Fencing Masters is so very privileged to have her on staff, and to see students grow under her guidance.
Vil's reputation in fencing is truly impressive. As a coach, he's trained World, European and Russian fencing champions. The list of competitors who have grown and been successful under Vil's guidance is long and impressive. Like Anastasia, Vil is a proven competitor himself. A national champion and award winning fencer, he knows the level of competition that is being built at Academy of Fencing Masters. As an athlete and coach, Vil trained in Ufa, one of the major centers of Russian foil and home to two of the current members of the Russian men's foil team. Here he trained the most elite athletes for national and international competitions. As a coach he's tough but warm, and is a perfect fit with the Academy of Fencing Master's vision of coaching.
Academy of Fencing Masters is committed to increasing the skills and rankings of its students, keeping them competitive by hiring extraordinary coaches like Anastasia Churkova and Vil Nagimov as additions to its already strong stock of coaches.