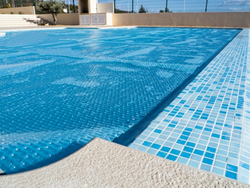 While a pool might seem like a difficult feature to sell, individuals can flip these into more practical and useful spaces easily
Chicago, IL (PRWEB) August 08, 2015
While a pool might seem appealing on the surface level, they can wind up costing homeowners quite a bit of money. Between maintenance costs and insurance, The Federal Savings Bank knows that a pool can turn into more of a headache than a relaxing spot to lounge on a hot day.
A pool won't necessarily take away value from a home, but it is likely first-time home buyers will not be as interested in a house with a pool due to the extra costs. However, individuals looking to sell their homes can re-imagine their pool and turn it into something valuable anyone can appreciate.
The Federal Savings Bank offers the following tips regarding how a homeowner can use a swimming pool in a new way:
A more natural water feature
Water features are beautiful additions to any outdoor space. Swimming pools can easily be converted into a pond. By making a more natural outdoor water feature that's environmentally friendly and doesn't cost nearly as much when it comes to maintenance, a homeowner can turn their pool into a valuable home feature.
Another way to be more eco-friendly is to use an old pool as a greenhouse to grow plants all year round. Simply install solar panels and a glass roof to allow sunshine to enter while protecting the space.
Extra patio space
Homeowners can increase the value of their pool by turning it into additional patio or deck space. An individual can easily create additional seating outdoors by using the pool as a sunken patio or building a deck over the top.
Adding a feature like this to a home will add value because it serves as additional space for entertaining guests.
A studio or office
With the help of a professional contractor, homeowners can also flip unused pools into extra office or studio space. Using a frame roof and furnishing the space, a homeowner can quickly and easily add more square footage and value to a house they've listed.
While a pool might seem like a difficult feature to sell, individuals can flip these into more practical and useful spaces easily with a little creativity and help from a professional. Interested buyers will be eager to purchase a home with a uniquely re-imagined space
Contact The Federal Savings Bank, a veteran owned bank, to learn more about mortgages.