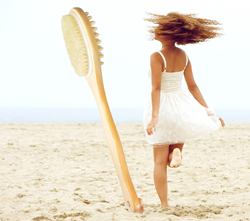 Skin Brushing is beneficial for wellness and a stronger immune system; it improves skin quality as well.
St. Petersburg, FL (PRWEB) August 10, 2015
The popular Skin Brushes from Sublime Beauty are back in stock at Amazon and its webstore today.
Dry Skin Brushing is beneficial for wellness and easy to practice in only 10 minutes per day. Benefits include:

Lymphatic system movement for wellness and a stronger immune system. The lymphatic system has no pump like the heart, and relies on things like massage, exercise or Skin Brushing.
Exfoliation of toxins and dead cells from the largest body organ, the skin. Brushing away these cells and toxins helps skin to operate optimally.
Blood circulation is boosted, and this is good for wellness but also for skin tone.
Cellulite can be managed or reduced with daily brushing, as it helps to move away the toxins, improve circulation and tone of affected areas.
Mood is enhanced thanks to release of endorphins - and it feels invigorating.
Sublime Beauty® maintains a site all about Skin Brushing, which includes how to guides, testimonials, videos, podcasts, background information and more.
Sublime Skin Brushes have been featured on TV, in magazines and online.
About: Sublime Beauty® is a French-inspired quality skincare company that focuses on products to Age Well. Ingredients help to boost collagen, hydrate, relax wrinkles and improve skin. A niche includes healthy Skin Brushes. The company webstore offers free standard shipping and a VIP Club. Sign up for Secret Sales on the site. Products also available on Amazon.