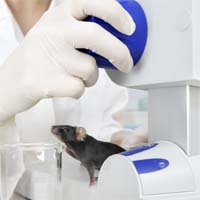 Temsirolimus...targets tumor angiogenesis...to halt experimental mesothelioma growth.
Raleigh, NC (PRWEB) August 10, 2015
Researchers in Greece and the UK say the kinase inhibitor temsirolimus appears to attack mesothelioma from multiple directions. Their research is the subject of a new article on the Surviving Mesothelioma website. Click here to read it now.
The new research involved daily injections of temsirolimus into mice that had been infected with one of two types of mesothelioma. After a few weeks, when the mice were sacrificed for examination, they found that the drug had had several important effects.
As study author Maria Eleni Vazakidou of the Evangelismos Hospital in Athens explains, "Temsirolimus, apart from inducing tumor cell apoptosis, targets tumor angiogenesis and influences inflammatory tumor microenvironment to halt experimental mesothelioma growth in vivo."
In other words, temsirolimus prompted mesothelioma cells to die early, slowed blood vessel growth needed to support mesothelioma tumors, and jump started the immune system to attack mesothelioma cells.
"The news on temsirolimus continues to be promising," says Alex Strauss, Managing Editor of Surviving Mesothelioma. "This is especially exciting in light of the fact that there are currently so few effective drug treatment options available to mesothelioma patients."
For a better understanding of how temsirolimus is thought to work, and the details of past studies on the drug, see Kidney Cancer Drug Slows Mesothelioma Growth in Mice, now available on the Surviving Mesothelioma website.
Vazakidou, ME, et al, "Temsirolimus targets multiple hallmarks of cancer to impede mesothelioma growth in vivo", August 5, 2015, Respirology, Epub ahead of print, http://onlinelibrary.wiley.com/doi/10.1111/resp.12604/abstract
For nearly ten years, Surviving Mesothelioma has brought readers the most important and ground-breaking news on the causes, diagnosis and treatment of mesothelioma. All Surviving Mesothelioma news is gathered and reported directly from the peer-reviewed medical literature. Written for patients and their loved ones, Surviving Mesothelioma news helps families make more informed decisions.