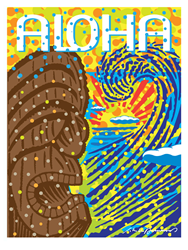 "We look forward to seeing surfers from across the East Coast come share in the celebration of surf culture on August 21st!" said Paul Strauch, Executive Director of the Surfing Heritage and Culture Center and recent Surfing Walk of Fame inductee.
San Clemente, CA (PRWEB) August 10, 2015
Today, Surfing Heritage and Culture Center has announced Cecil Lear will receive their Lifetime Achievement Award for a career spent spreading the love of surfing across the Eastern United States. A natural salesman, Cecil's first step before riding a wave came a little closer to home.
"It took me a little while to talk my wife into letting me spend $125 for the first surfboard in our area of New Jersey in 1961," Cecil Lear explained. "Once it arrived in the mail from Hobie, and I learned to ride it, I knew this was a sport everyone needed to try."
Shortly after learning to ride, Cecil began to work with his friends to organize the sport into a community that spanned the Eastern United States and ultimately founded the Eastern Surfing Association in 1967.
"From helping set up the first surf friendly beaches, to helping found the Association, Cecil has worked tirelessly to build the sport and community of surfing," said Dick Metz, Co-founder of the Surfing Heritage and Culture Center. "Cecil is a legend of surfing and we here at the Surfing Heritage and Culture Center are honored to recognize his achievements on behalf of thousands of surfers."
First given to filmmaker Bruce Brown, the Surfing Heritage and Culture Center Lifetime Achievement Award will be given at the first annual National Luau on Friday, August 21 in Washington, DC's Reagan Event Center.
"The National Luau will be the party of a lifetime with legends stretching from the original cast of the Endless Summer, and icons like big wave pioneer Greg Noll and Boogie Board inventor Tom Morey to modern surf icons like Robert "Wingnut" Weaver, and it would not be possible to host this on the East Coast without the great work of Cecil Lear," said Paul Strauch, Executive Director of the Surfing Heritage and Culture Center and recent Surfing Walk of Fame inductee. "We look forward to seeing surfers from across the East Coast come share in the celebration of surf culture on August 21st!"
For more information on the National Luau or to purchase tickets to this incredible event, go to http://ow.ly/QFRJq
About Surfing Heritage & Culture Center
Founded in 2000 the Surfing Heritage is a non-profit organization dedicated to preserving, presenting and promoting surfing's heritage for the appreciation and education of current and future generations. SHACC serves as the world's foremost educational and support resource for surfing publications, manufacturers, and museums. Surfing Heritage is a 501 (c) 3 non-profit. For more information go to http://www.surfingheritage.org