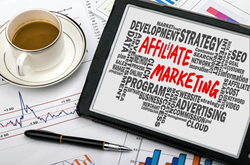 You have to always be recruiting new affiliates proactively as well as managing actively to grow a large, productive affiliate marketing channel.
(PRWEB) August 10, 2015
The independent authority on digital advertising agencies, topseos.com, has named Experience Advertising, Inc. the top rated affiliate marketing agency for August 2015. Experience Advertising was selected due to their strong performance in the thorough affiliate agency evaluation process. Hundreds of agencies are considered while only the 30 best are highlighted in the rankings.
The independent research team at topseos.com performs an in-depth analysis of the competing firms in order to stay aware of their latest successes within the industry. Contending firms are researched through the use of five areas of evaluation in areas including optimization, reporting, monitoring, network, and implementation.
Experience Advertising has been awarded the #1 ranking for affiliate marketing companies in the monthly rankings at topseos.com due to their exceptional customer service, their comparative performance over previous months, current client references, and their dedication towards excellence. It is due to this information that topseos.com suggests customers seeking effective affiliate marketing solutions consider Experience Advertising as their affiliate program management agency or OPM.
About Experience Advertising: Experience Advertising, founded by ecommerce industry expert Evan Weber, offers an effective affiliate marketing management solution for ecommerce companies looking for a proactive approach to growing their affiliate marketing channel. With dedicated expert affiliate managers, copy-writing services, website creation tools, and educational resources to assist their affiliates and publishers, Experience Advertising provides many valuable resources to help their clients achieve their goals through their affiliate management services. Their services are aimed at methodically growing the affiliate marketing channel for their clients by implementing proactive affiliate recruiting and excellent affiliate messaging and management.
Evan Weber, CEO of Experience Advertising, stated, "We are thrilled to be recognized as the premier affiliate program management service. We take a lot of pride in delivering these services better than other agencies." Weber has been involved in growing affiliate programs since 2002 when he was the Marketing Director for Dentalplans.com. "A lot has changed regarding growing affiliate programs, however the principles like proactive affiliate recruiting and effective managing have not. You have to always be recruiting new affiliates proactively as well as managing actively to grow a large, productive affiliate marketing channel," stated Weber. Weber is also renowned for his presentations at the Affiliate Summit conference where he is one of the most popular speakers at the events.
Experience Advertising is considered an OPM or outsourced affiliate program management agency. They work with the largest affiliate networks in the U.S., as well as growing in-house affiliate programs for their clients. Experience Advertising is also a full-service digital marketing and social media agency.
Experience Advertising provides potential clients with a complimentary evaluation to determine whether pursuing an affiliate program makes sense for a company. Weber continued, "Unlike other OPM's, we determine which network is ideal for each client and what kind of strategy will be required to effectively grow the affiliate marketing channel for each company. We also work with our clients to make sure their website has a more than adequate conversion rate so their affiliates will be successful when they promote the company. Otherwise, the program won't gain the traction it needs to grow and flourish into 100's of producers over time."
If you are interested in growing an affiliate program for your company you can visit Experience Advertising and inquire about their affiliate program management options and fees.