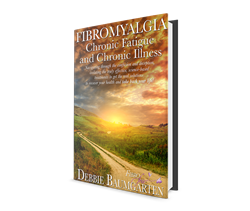 "It just shouldn't have taken such a monumental effort to find a truly workable treatment for Fibromyalgia and Chronic Fatigue. Hopefully, if I can make this information known, it won't be as hard for others". - Debbie Baumgarten, Author
Austin, Texas (PRWEB) August 25, 2015
When someone is diagnosed with Fibromyalgia, their doctor will likely prescribe one or more of the established drugs for the treatment of Fibromyalgia. These medications as well as OTC pain medications can help to ease symptoms and may certainly be needed to even be able to function at all.
However, these medications address relieving pain and easing the symptoms of Fibromyalgia, much like taking an aspirin to relieve a headache. The problem is that Fibromyalgia pain is chronic and Fibromyalgia symptoms can keep on coming for a lifetime. So while these medications help to ease the symptoms, alternative treatments to address underlying causes should also be sought out and followed concurrently.
With no known cause of Fibromyalgia, no documented and acknowledged cure, and years of a growing population of sufferers, more and more alternative treatments have been popping up. As a result, it can be quite confusing and somewhat disheartening when starting on the trek of truly recovering from such illness.
For those suffering from Fibromyalgia, Chronic Fatigue or other chronic illnesses, who are sick and feel horrible, time and money become even more precious – too precious to be wasting valuable resources on things that don't work.
SO WHAT IS THE SOLUTION?
Work with an advocate who has battled Fibromyalgia. Someone who has suffered their own pain and fatigue and who has done extensive research and their own trials.
An advocate who traveled thousands of miles to seek out top-of-the-line clinics, to see highly reviewed top doctors and specialists that have worked with these chronic illnesses for years, who also followed numerous treatment protocols, read pretty much every book on the subject and tried every imaginable supplement as well as many different drugs that were purported to help – they'd be pretty qualified to recommend the best treatment plans.
Well, there is such an advocate who has done exactly that. Among the vast amounts of over-hyped treatments and protocols, she was able to find some real gems and pearls of wisdom that actually were incredibly helpful. As a result, she says has been able to regain her health and get her life back.
Diagnosed with Fibromyalgia over 15 years ago at the Mayo Clinic, she has been carefully documenting everything that she's found to be most helpful in actually recovering her health throughout vast tomes of research and multitudes of trials.
"It just shouldn't have taken such a monumental effort to find a truly workable treatment for Fibromyalgia and Chronic Fatigue. Hopefully, if I can make this information known, it won't be as hard for others". To that end she has put all of this information into a simple and straightforward book that has just now been made available on Amazon as a Kindle e-book.
The book is entitled: Fibromyalgia, Chronic Fatigue and Chronic Illness; Navigating through the confusion and deception, isolating the truly effective, science-based treatments to get the real solutions to recover your health and take back your life!, by Debbie Baumgarten. Here's a link to it: http://www.amazon.com/Fibromyalgia-Navigating-confusion-science-based-treatments-ebook/dp/B012Z79IIU/ref=asap_bc?ie=UTF8
There is also information available on her website along with a blog to continue to warn, alert and advise on new information as it becomes available. The website is: http://www.FibromyalgiaFree.org
If someone is experiencing unexplained pain and/or fatigue, by all means they should see their doctor. But before spending thousands of dollars on specialists, more and more tests and costly treatment plans, at least now there is a comprehensive guide available that can be consulted by those who are suffering, to help direct them toward the most beneficial treatments and protocols.
This new book, Fibromyalgia, Chronic Fatigue And Chronic Illness; Navigating Through The Confusion And Deception, Isolating The Truly Effective, Science-Based Treatments To Get The Real Solutions To Recover Your Health And Take Back Your Life, may hold the keys to a treatment plan that doesn't just mask symptoms, but actually heals.