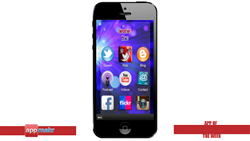 QSD Graphics is a shining example of how anyone can easily make an app themselves today without any technical knowledge.
(PRWEB) August 21, 2015
August 21, 2015 – New York, NY – AppMakr, a leading DIY mobile app builder, today announced that the QSD Graphics is the company's "App Of The Week" for June 28th - July 4th.
Each week, AppMakr features one app from the thousands published using our app building tool, called The Machine. This app was selected because it demonstrates the quality of content, design and relevancy that mobile apps can bring to groups trying to make a difference in their community.
With more than 1 Billion smartphones now active in the world, 84% of those users are spending at least 1 hr each day on their smartphones, the base on potential mobile users for the QSD Graphics is massive and growing quickly by the day. It was this potential that motivated AppMakr to create an easy drag-and-drop app builder platform that enables anyone to create an app like the QSD Graphics without the knowledge of coding.
The QSD Graphics and thousands of small to large businesses, schools, blogs, sports teams and community groups have selected the AppMakr DIY app maker platform to create and launch their mobile app for Android, iPhone and over 5,000 different models of HTML5 compatible smartphones.
In a recent interview about building the QSD Graphics app, Queen Stephanie, developer and owner of the app, told AppMakr the following about their experience entering the app economy:
AppMakr: What motivates you to go mobile?
Queen: I think that all websites should have a mobile app. These days with all the smartphones, you can do everything with a mobile phone. So why not make it easier for the user to use?
AppMakr: How did you find AppMakr?
Queen: I found AppMakr by Google search by typing in free app design.
AppMakr: What impact do you think it would have on your community with this mobile app you've built?
Queen: I think it is a great impact because people on the go can now view all the awesome information I offer on my website.
To create your own mobile app, and have a chance at being named App Of The Week, go to http://www.appmakr.com/ and get started today.
About AppMakr
AppMakr is the largest DIY mobile app creation platform in the world providing a range of affordable marketing solutions to all small businesses, schools, community groups and individuals. By servicing the long-tail of niche interests with low-cost apps, AppMakr has become the largest DIY publisher of mobile apps in the world. The platform creates true native iPhone and Android mobile apps, as well as HTML5 mobile websites compatible with thousands of smartphone models. Available in 15 languages for as little as $1/month, with hundreds of ways to customize your new mobile app. Functions include: Social Feeds, Live Video Streaming, Live Chat Rooms and the ability to secure apps through private access and content filters. AppMakr is the easiest way to mobilize your business, blog or community group.
To learn more about how AppMakr is transforming the Mobile App Economy, please visit http://www.appmakr.com and follow https://www.facebook.com/AppMakr on Facebook as well as @AppMakr on Twitter.
About QSD Graphics
The QSD Graphics app was created by Queen Stephanie, a stay at home mom and freelance graphic designer. She designs websites with basic html and css coding. She also uses Adobe Photoshop to edit pictures and make customized gifs, banners, and logos.
To download the QSD Graphics app for your mobile phone, go to: http://apps.monk.ee/qsdgraphics
To learn more about QSD Graphics please visit: http://www.qsdgraphics.com/