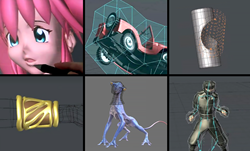 Artists are always looking for powerful and creative ways to work in 3D and this bundle puts many flexible tools in the hands of artists at a very affordable price.
Burbank, California (PRWEB) August 10, 2015
The LightWave 3D® Group, a division of NewTek, Inc., has teamed up with Japan-based software developer 3rd Powers to deliver the Powerful Creativity Bundle, featuring a new full license of LightWave 2015 and a complete suite of plugins for LightWave by 3rd Powers.
During Siggraph Week, August 10-17, 2015, artists who buy LightWave 2015 for $995 will receive the entire suite of 3rd Powers plugins for LightWave, valued at more than $600, for no additional cost. These plugins include LW Brush, Cage Deformer, Lattice Deformer, Meta Mesh, Boolean Tool, and Heat Shrink Plus. This offer is only available on the LightWave 3D website.
Registered owners of LightWave can upgrade to LightWave 2015 for $495 during the August 10-17, 2015 time period and receive the 3rd Powers LW Brush plugin, valued at $169, for no additional cost.
"Artists are always looking for powerful and creative ways to work in 3D," said Rob Powers, president, LightWave 3D Group. "It is exciting to team up with 3rd Powers to deliver the Powerful Creativity Bundle for Siggraph Week 2015. It offers artists the opportunity to pair award-winning LightWave 2015 3D software with some of the most impressive plugins on the market today at no additional cost. It's an offer that benefits everyone interested in being creative with 3D."
Created by artists for artists, LightWave 2015 is intuitive, award-winning software that offers an end-to-end production pipeline for artists and designers to model, animate, capture, retarget, render, and input and output to 3D, including 3D printing.
3rd Powers plugins offered in the Powerful Creativity Bundle include:
LW Brush: 14 modeling tool plugins for mesh editing such as, translating, rotating, grabbing, sliding, smoothing, pushing, pulling, drawing, cutting, extending, and more.
Cage Deformer: An intuitive animation tool that allows artists to freely edit the mesh deformation of an object by wrapping it with a low-resolution cage-like geometry.
Lattice Deformer: Distort and animate objects in the lattice by grabbing, stretching, rotating and distorting.
Meta Mesh: A new modeling technique to interactively weld and hollow an object in the viewport; Subpatch objects can also be welded and hollowed without harming the model.
Boolean Tool: An interactive version of Boolean that creates a new object from the overlapping portions of the foreground and background objects.
Heat Shrink Plus: A modeling tool that dynamically combines a foreground polygon mesh to a background object, similar to wrapping an object.
Artists are invited to test drive a full-feature trial version of LightWave 2015 at http://www.lightwave3d.com/try_lightwave.
About NewTek
NewTek is transforming the way people create network-style television content and share it with the world. From sporting events, Web-based talk shows, live entertainment, classrooms, and corporate communications—to virtually any venue where people want to capture and publish live video, we give our customers the power to grow their audiences, brands and businesses, faster than ever before. NewTek is privately owned and based in San Antonio, Texas.