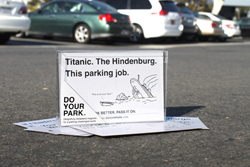 It turns out people get really upset when they see a truck parked across two handicap spots at the mall
San Francisco, California (PRWEB) August 11, 2015
Born in the streets of San Francisco - a national epicenter for awful park jobs - Do Your Park, a company manufacturing magnets bearing witty quips that can be affixed to errant parked vehicles, has been on a roll since launching in 2013.
Founded by three fraternity brothers from the University of Davis, California, the company tripled its revenues in less than a year and is currently expanding its reach from e-retail to brick and mortar stores.
In a recent interview with The Atlantic's City Lab, Do Your Park co-founder Peter Vandendriesse, explained the secret behind the company's early success.
"It turns out people get really upset when they see a truck parked across two handicap spots at the mall," says Vandendriesse following the interview. "Our magnets provide people with an opportunity to voice their frustrations while also leaving the offender with a reusable magnet that they can, hopefully, use to redeem themselves."
That's ultimately the whole idea behind the company's slogan "Park Better. Pass It On."
Do Your Park's magnets are currently available at http://www.doyourpark.com, various online retailers and select stores in California.
###
Do Your Park is a California-based company specializing in "delightfully distasteful magnets for a parking challenged world." It's re-useable magnets are meant to disperse a brief moment of soul-crushing shame before allowing the recipient to redeem themselves by passing the magnet on to another misguided motorist.