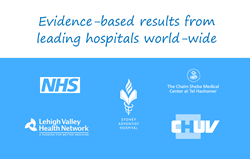 (PRWEB UK) 12 August 2015
A new white paper released by iMDsoft demonstrates the value of critical care clinical information systems, as illustrated by evidence-based results.
When it comes to healthcare IT expenditure, tight budgets and increasing capital needs mean that hospital executives are forced to make tough decisions about where to invest. In the ICU, even modest optimisations in performance have the potential to result in tremendous clinical and financial benefits.
Critical care clinical information systems (CIS) create accessible, complete medical records that inform clinicians and support their decision-making throughout the care process. The implementation of a CIS in the ICU delivers operational improvements that make it easier for clinicians to work effectively, resulting in better patient care and increased staff satisfaction.
Find out how using a critical care CIS helped hospitals across the globe achieve high-impact results such as:

20% reduction in length of stay
100% elimination of prescription errors
100% increase in ICU patients with adequate nutrition
About iMDsoft
iMDsoft is a leading provider of Clinical Information Systems for critical, perioperative, and acute care environments. The company's flagship family of solutions, the MetaVision Suite, was first implemented in 1999. Hospitals and health networks worldwide use MetaVision to improve care quality and enhance financial results. The system promotes compliance with protocols and best practices, streamlines reporting and supports clinical research. To learn more about iMDsoft, visit http://www.imd-soft.com.