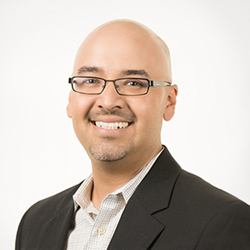 "The parking industry is undergoing dramatic change, especially in the area of technology, and young professionals are at the forefront of this revolution." — NPA President Christine Banning, MA, CAE
HOUSTON, TX (PRWEB) August 10, 2015
The National Parking Association (NPA) has selected Walter P Moore's Jeremy Rocha, P.E., NCEES, Senior Parking Consultant as part of its inaugural 40 Under 40 class of young professionals and up-and-coming leaders in the parking industry. Jeremy and the other chosen individuals representing multiple sectors of the parking industry will be inducted into the awards program at the NPA 2015 Convention & Exposition, August 31-September 3 at the Fontainebleau Miami Beach.
Jeremy specializes in parking consulting for national and international parking projects for commercial, healthcare, and higher education clients. With 16 years of civil engineering experience, Jeremy has been involved in all aspects of project development ranging from parking master planning to construction administration. As one of the first in the U.S. to obtain a Green Parking Council Green Garage Certification, he is qualified to analyze existing or new parking facilities to determine if they qualify as a Green Garage. This certification is the only rating system that defines and recognizes sustainable practices in the management, programming, and design of parking facilities.
NPA's 40 Under 40 inductees will participate in an exclusive peer network group. The 40 Under 40 Peer Network provides inductees with an exclusive opportunity to meet each other and ask questions, discuss best practices and share ideas. The peer network will meet face-to-face at NPA conventions, participate in quarterly calls, and contribute to an online forum on WeAreParking.org.
"NPA is extremely proud to recognize the impact of the parking industry's best and brightest young professionals, and to also foster leadership development that will continue the industry's innovation and growth," said NPA President Christine Banning, MA, CAE. "The parking industry is undergoing dramatic change, especially in the area of technology, and young professionals are at the forefront of this revolution. The 40 individuals selected represent major facets of the parking industry, and we are pleased to give them a platform to stand up and be counted."
Parking industry professionals were able to nominate a colleague under age 40, or individuals meeting the criteria could nominate themselves for the 40 Under 40 inaugural class. Meet the 40 Under 40 at WeAreParking.org/40under40_2015.
###
About Walter P Moore / http://www.walterpmoore.com
Walter P Moore is an international company of engineers, innovators, and creative people who solve some of the world's most complex structural and infrastructural challenges. Providing structural, diagnostics, civil, traffic, parking, and transportation engineering services, they design solutions that are cost- and resource-efficient, forward-thinking, and help support and shape communities worldwide. Founded in 1931 and headquartered in Houston, Texas, Walter P Moore's 500+ professionals work across 15 U.S. offices and five international locations.
Editor's Note: There is no period after the 'P' in Walter P Moore.
About NPA / http://www.WeAreParking.org
The National Parking Association is the nation's leading parking trade group advancing the interests of the private and public sector in parking technology, sustainable mobility, certification, advocacy, research and education. Founded in 1951, NPA has more than 2,500 members and represents all facets of the parking industry.