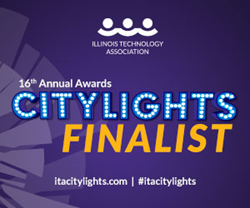 "Our CityLIGHTS Awards are all about showcasing great companies and individuals doing extraordinary things," said Fred Hoch, CEO, ITA. "Having cleverbridge in this year's finalists' pool proves just that."
Chicago (PRWEB) August 10, 2015
cleverbridge, a global full-service ecommerce provider for software and subscription companies, announces that the Illinois Technology Association (ITA) has named cleverbridge a finalist for the 2015 ITA CityLIGHTS Lighthouse Award. This award recognizes growth-stage companies, which through innovation in products, services or business approach, have grown to become a serious competitor in the marketplace (i.e. greater than $25 million in revenue). Winners for each of the eight ITA CityLIGHTS categories will be announced at a gala event on September 17 at Morgan Manufacturing in Chicago.
Now in its 16th year, the ITA CityLIGHTS program honors companies and individuals whose innovation and success drive growth in the technology industry and in Illinois. Each year, the program attracts more than 650 people from 400 organizations including business owners, investors, legislators and policymakers. All finalists are selected by a panel of accomplished judges representing the Who's Who in Illinois technology. The public can contribute to the selection of this year's winners by voting from August 10-28 at http://www.itacitylights.com. Winners will be determined by composite score (50 percent judges; 50 percent community voting) in all categories except the CityLIGHTS Award, which is determined solely by the ITA Board of Directors.
"Our CityLIGHTS Awards are all about showcasing great companies and individuals doing extraordinary things," said Fred Hoch, CEO, ITA. "Having cleverbridge in this year's finalists' pool proves just that."
"We are thrilled and honored to again be recognized by the ITA as one of the top innovators driving growth in the technology industry and in Illinois," said Craig Vodnik, co-founder, cleverbridge. "Although we've grown to be a truly global company over the last 10 years, we're still proud of our Illinois roots. I view this award as a testament to our entire organization as it would never have been possible if it weren't for the collective efforts of every cleverbridge employee and the community we support."
This is the second consecutive year cleverbridge has been named a finalist in the ITA CityLIGHTS Awards as co-founder Craig Vodnik was named a finalist for 2014 ITA CityLIGHTS Awards CEO of the Year. In 2005, cleverbridge founders set out to develop a powerful, adaptable ecommerce solution. Based on extensive experience in the ecommerce industry, the team saw an opportunity to improve upon existing technology solutions, client service, dispersed data platforms and analytics capability. The result of their efforts is cleverbridge. Growing from the four original founders to more than 280 employees today, cleverbridge has been profitable since 2007, and is well-positioned for future growth as companies continue to move away from selling products and toward selling subscription services related to those products.
To view the 2015 ITA CityLIGHTS list of finalists or cast your vote for the award category winners, visit http://www.itacitylights.com between August 10-28. To learn more about cleverbridge, please contact inquiry(at)cleverbridge(dot)com or visit http://www.cleverbridge.com.
About cleverbridge
cleverbridge is a proven leader in ecommerce technology, services and expertise for global software and subscription companies that serve consumers and businesses. For more than 300 clients – including Avira, Corel, Dell, Malwarebytes and Parallels – cleverbridge is a true extension of their teams, understanding each client's billing models, markets, channels and specific ecommerce requirements. cleverbridge provides an unsurpassed customer experience so that clients can strategically leverage ecommerce to effectively build customer relationships and generate more revenue. Headquartered in Cologne, Germany, cleverbridge has offices in Chicago, San Francisco and Tokyo. For more information, visit http://www.cleverbridge.com.
About the Illinois Technology Association
The Illinois Technology Association (ITA) is a business services organization dedicated to growing technology companies. ITA provides strategic programming, consulting and resources, enabling its members to grow, build and elevate their business. For more information, visit illinoistech.org, follow @ITAbuzz on Twitter or find us on LinkedIn.