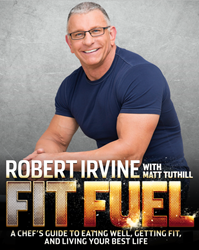 I know it works because it's built on the same health-focused principles I live by every day.
New York, NY (PRWEB) August 11, 2015
Celebrated chef and culinary personality, Robert Irvine, shifts his tough love tactics from the restaurant owner to the every day man (and woman!) with his new book, Fit Fuel: A Chef's Guide to Eating Well, Getting Fit and Living Your Best Life. Developed from the lifetime of training and nutritional knowledge of Chef Irvine, with support from distinguished fitness writer Matt Tuthill, Fit Fuel is designed to inspire the countless individuals who find themselves struggling to find the motivation to reach their personal health and fitness goals. The book launches today, August 11, and is available at http://www.FitFuelBook.com and on Amazon.
"Fit Fuel represents the first time that I've combined my passion and decades of experience in food and fitness with my 'no excuses" motivational approach, to create a sensible and sustainable guide for those that are truly interested in changing their lives for the better," said Chef Irvine. "I know it works because it's built on the same health-focused principles I live by every day."
Chef Irvine, whose hit Food Network series, Restaurant: Impossible, has skyrocketed his popularity as a stern-but-fair culinary expert, has created Fit Fuel as a means to provide its readers with the assurance that healthy living does not equate to boring food and painstaking workouts. The book is segmented into three distinct sections, the first of which examines the mental aspect of goal setting, habit forming and long-term maintenance. Here, Chef Irvine provides encouraging, digestible ideas of how to change the way we see and think about food, our selves, and our own unlimited potential. Just as he's done in season after season of Restaurant Impossible, Chef Irvine provides readers with the same no-excuses encouragement and mental coaching in Fit Fuel, motivating with tools, resources and inspiration every step of the way.
The second section of the book focuses on training, with an easy-to-follow plan, demonstrated through A and B photography and well-defined techniques that the 49-year-old British Royal Navy veteran considers fundamental to his own lean and muscular physique.
In its final section, Fit Fuel goes on to reveal recipes for breakfast, lunch, dinner, and dessert, all illustrated with realistic photography and step-by-step instructions. Few dishes or main ingredients are overlooked, despite their unmerited reputations as "no-no" foods. From pancakes to salads, beef to fish, Chef Irvine challenges the idea of good vs. bad as it pertains to the everyday diet, even sharing a handful of recipes to satisfy sweet tooth and emphasize the fact that healthy eating does not require deprivation.
Fit Fuel: A Chef's Guide to Eating Well, Getting Fit and Living Your Best Life retails for $25.00 at FitFuelBook.com. A portion of the book's proceeds will support the Robert Irvine Foundation, a not-for-profit organization founded by Chef Irvine that supports the individuals and organizations committed to enriching the lives of our military personnel (active, retired and veterans) and their families.
With more than 25 years in the culinary profession, Chef Robert Irvine has cooked his way through Europe, the Far East, the Caribbean and the Americas, in hotels and on the high seas. As the host of one of the Food Network's highest rated shows, Restaurant: Impossible, Irvine saves struggling restaurants across America by assessing and overhauling the restaurant's weakest spots. Irvine was previously the host of Food Network's Dinner: Impossible and Worst Cooks in America, has authored two cookbooks, Mission: Cook! and Impossible to Easy, and one healthy living book, Fit Fuel: A Chef's Guide to Eating Well and Living Your Best Life. Irvine is currently on tour with his new, interactive live show Robert Irvine Live, and appears regularly as an expert guest on national morning and daytime talk shows. In 2015, Irvine launched Robert Irvine Foods, a company that features a nutritionally improved line of food products without compromising great taste. Irvine recently established the eponymously named non-profit organization, The Robert Irvine Foundation, in an effort to support military personnel and their families. For more information on Chef Robert Irvine, visit http://www.ChefIrvine.com.