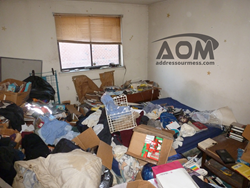 Assist them when they are looking for help in sorting and organizing their property.
Baltimore, MD (PRWEB) August 11, 2015
Address Our Mess, a specialty hoarding cleanup company, is offering to help individuals who know people who may be suffering from a hoarding disorder. This practical advice is given to help potential clients, their families and friends address the issue of hoarding. The following information can assist the hoarder or all concerned parties in working toward a goal of cleaning up a property.
One: Do not judge the individual who is hoarding. One of the most effective ways of accomplishing this is by expressing sympathy and encouraging them to work towards cleaning up their home. Judging them, for how their property is maintained, is not an effective way of treating the hoarding situation or individual. If the concerned party gets angry with the person over their living environment, it may only encourage the hoarder to withdraw further from the people trying to assist them.
Two: Seek help from a professional hoarding therapist or psychologist. Professionals in the mental health industry can assist in determining the cause of the hoarding and how to remedy the situation. Simply removing the items from the property will not resolve the problem. When items are removed from the hoarders environment, the hoarder may react by gathering more items to replace the items that were moved from their property. An individual who is trained in this field can guide the hoarder in adapting a healthier lifestyle. Failure to address the cause of the hoarding will likely cause a relapse by the hoarder.
Three: Offer alternatives to what to do to the items. Advise them that some of the items can be helpful for other individuals. Books can be donated towards a library or a school where they can help educate or entertain other people. Also, old exercise equipment can be donated to help people who are looking to be physically active in their lives. In offering these items to other groups or organizations gives the hoarder a sense of purpose in removing the items that they have acquired.
Four: Help them set goals. A family member, friend, or a person looking to help a hoarder can benefit from having the help of a professional cleaning company. They will help the people involved set small goals, because even the most minor ones can be an enormous hurdle for a hoarder to conquer. A professional cleaning company can be the mediator between all of the parties.
Five: Assist them when they are looking for help in sorting and organizing their property. When looking for estimates for the project, be there with them to ensure that they are not being taken advantage of by a company. Look for a company that is licensed and insured to do the large-scale cleanup work necessary. Make certain that this company includes disposal of the removed items in an environmentally sound manner.
Address Our Mess is offering this helpful advice to ensure that the hoarder's and their loved one's get them the treatment necessary to succeed at their cleanout.