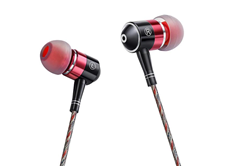 (PRWEB) August 11, 2015
"Zorloo" was featured on NewsWatch as part of its monthly Tech Report, which features the latest and coolest technology products available to consumers. Amanda Forstrom, a technology expert and special reporter for NewsWatch, conducted the review and shared with viewers how these innovative digital headphones take audio quality to a new level.
Zorloo's innovative brand of digital headphones have taken earphone audio quality to a whole new level. In fact the switch from analog audio output to digital audio output is now possible thanks to them. So, as background - a recent trend has been to use large, bulky audio converters connected headphones to increase audio quality. For obvious reasons it can be annoying.
Zorloo's Z:ero headphones plug directly into an Android phone's micro-USB port. It then takes digital music and digital audio data and turns it into beautiful vibrant music – but without the external bulky converter. They come in two different colors, red and gold with 3 control buttons for volume, play, pause or skip. They are compatible with Android devices but soon they'll be available for iOS devices. B Z:ero headphones for $39 on Amazon.
To learn more, visit zorloo.com today.
About NewsWatch
NewsWatch is a weekly 30-minute consumer oriented television show that airs on the Discovery Channel and ION Network. NewsWatch regularly features top technology products and services, mobile applications for iOS, Android, and Windows devices, unique and beautiful travel destinations around the world, health and medical tips, and entertainment interviews on the show. NewsWatch airs on the Discovery Channel at 7:00 – 7:30 AM ET/PT.
NewsWatch is located in the greater Washington, DC area and has been on air for over 25 years. For more information or to watch the most recent episode, visit http://newswatchtv.com/tech-report.html.