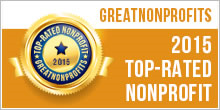 Sponsoring children for 13 years through this great organization [Unbound] has been one of the most gratifying things we have ever done.
Kansas City, Kan. (PRWEB) August 11, 2015
Unbound is pleased to announce it has been honored with a prestigious Top-Rated Award by GreatNonprofits, the leading provider of user reviews about nonprofit organizations.
"We are excited to be named a Top-Rated 2015 Nonprofit," said Scott Wasserman, president and CEO at Unbound. "We are proud of our accomplishments this year, including operating with more than 92 percent of all contributions going to program support, which is the highest in our industry."
The Top-Rated Nonprofit Award was based on the large number of positive reviews that Unbound received from sponsors, donors and ambassadors for the organization. People posted their personal experiences with Unbound on the GreatNonprofits website.
One person wrote, "Sponsoring children for 13 years through this great organization has been one of the most gratifying things we have ever done. The personal contact with the children through letters and pictures is inspiring. Unbound is very efficiently managed, with extremely low overhead, and it is very convenient and easy to work with them."
While the Top-Rated Awards run through the end of October, Unbound is one of the first nonprofits to receive recognition for the year.
In addition, Unbound has been added to GreatNonprofits #GivingTuesday Guide — an interactive guide to top nonprofits throughout the years. Look for the guide during the holiday season.
"Savvy donors want to see the impact of their donations more than ever," said Perla Ni, CEO of GreatNonprofits. "People with direct experience with Unbound have voted that the organization is making a real difference."
Receiving the 2015 Top-Rated Nonprofit Award gives sponsors and donors confidence that Unbound is a credible organization.
###
About Unbound
Unbound is the largest nonprofit organization in Kansas with more than $120 million in annual revenue. Unbound works side by side with people of diverse faiths in 20 countries, bringing people together to challenge poverty in new and innovative ways.
Unbound distributes direct aid as quickly and efficiently as possible to people who need it. 92.5 percent of Unbound's expenses go toward program support.
About GreatNonprofits
GreatNonprofits is the leading site for donors and volunteers to find reviews and ratings of nonprofits. Reviews on the site influence 30 million donation decisions a year.