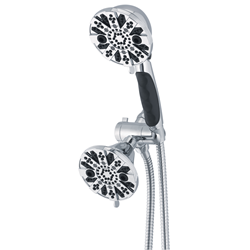 We love to hear customers getting excited about saving water.
Reno, NV (PRWEB) August 11, 2015
Oxygenics Hero Combo shower heads are now available exclusively in all 208 BJ's Wholesale Club locations in the Eastern United States as well as online through BJs.com. BJ's Wholesale Club will offer a new combination shower system, the Oxygenics Hero Combo, allowing BJ's members greater access to innovative and efficient bath fixtures.
"We're excited to offer the new and exclusive Hero Combo to BJ's Wholesale Club customers that will significantly improve their shower experience," said Travis Hawkins, President of Oxygenics. "Especially in a time where saving water plays a critical role in the American Household, we're humbled to offer a product that will not only improve the daily shower, but save water and money without sacrificing the shower experience. There's even a comfort control feature to adjust water pressure for extra convenience and savings. We love to hear customers getting excited about saving water."
The new Hero Combo shower head exclusive to BJ's Wholesale Club features patented Oxygenics technology that infuses oxygen into the water to produce a powerful shower stream that uses less water. The total savings from using a Hero Combo shower head can be up to $85 per year, depending the household size and how often the shower is running. Each shower head included in this combination system boasts seven different spray settings for a total of 63 different combinations, includes a 72" stainless steel hose, a 3-way diverter, a comfort control lever for customized pressure, a non-slip rubber grip, and a limited lifetime warranty – all for $39.99.
"BJ's is proud to partner with Oxygenics to add another exclusive product to the clubs that help our members use resources such as water more efficiently while also allowing them to save money," said Eric Ohnemus, Appliances & Lighting Buyer for BJ's Wholesale Club.
To learn more about the Oxygenics Hero Combo or check local availability, visit BJs.com or oxygenics.com.
###
About Oxygenics
Oxygenics is a worldwide leader in creating showerheads that are powerful, comfortable, and efficient. Using a combination of cutting-edge technology and intuitive design, Oxygenics employs a full line of showerheads that deliver a satisfying shower experience while saving water and energy. To learn more, visit oxygenics.com and connect with us on Facebook, Twitter, Pinterest or Instagram to share your experience.
About BJ's Wholesale
Headquartered in Westborough, Massachusetts, BJ's is a leading operator of membership warehouse clubs in the Eastern United States. The company currently operates 208 clubs in 15 states.
BJ's provides a one-stop shopping destination filled with more top-quality, leading brands including its exclusive Wellsley Farms and Berkley Jensen brands, which are all backed by BJ's 100% money-back guarantee; more fresh foods from USDA Choice meats to premium produce to delicious organics in many supermarket sizes; and more great value and amazing savings every day. BJ's is also the only membership club to accept all manufacturers' coupons and for greater convenience offers the most payment options.
To check out all the MORE BJ's has to offer, visit BJs.com and for exclusive content find us on Facebook, Twitter and Pinterest.