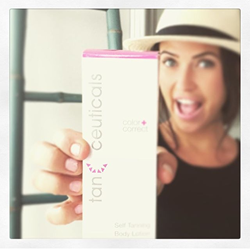 Bachelorette Kaitlyn Bristowe calls Tanceuticals self tanner a summer "must have".
Scottsdale, AZ (PRWEB) August 12, 2015
It's no secret that the popularity of self tanning lotions and sprays has skyrocketed over the last few years.
As virtually all doctors and dermatologists now warn of the dangers of sun and tanning bed exposure, people have turned to self tanners as a safe alternative for getting a beautiful tan.
And it looks like former Bachelorette and Bachelor contestants are getting on the bandwagon by recommending one brand of self tanner in particular, Tanceuticals.
Tanceuticals is one of the fastest-growing sunless tanning companies in the US and offers self tanning lotions and accessories for a variety of different skin tones.
The company has built a large following as its products allow people of all ages to quickly get a beautiful, natural-looking tan, without any orange color or terrible smell.
As for exactly which Bachelor Nation stars have expressed their love for it on Instagram, the list is long.
Recent Bachelorette Kaitlyn Bristowe, who has over a million followers on Instagram, leads the way saying Tanceuticals is a "summer must have".
Catherine Lowe, the winner of season 17 calls it her "bronze secret" and said "it smells amazing and I absolutely love my glow".
Season 19 contestant Becca Tilley simply says, "It is amazing".
Current Bachelor In Paradise contestants Carly Waddell and Clare Crawley have also joined in with Clare calling Tanceuticals "one of my serious go-to's".
Finally, pictures featuring Tanceuticals have also been spotted on the Instagram accounts of Season 18 Bachelorette Andi Dorfman, Season 16 contestant Ashlee Frazier and the Bachelor of Season 17 Sean Lowe.
All of these stars recommend the company's flagship product, Tanceuticals CC Self Tanning Body Lotion, which is available online and costs $24.95 for a 4.2 ounce bottle.
More information about Tanceuticals and their award-winning self tanning products can be found on their website at http://www.Tanceuticals.com.
Quote and Picture Sources:
Kaitlyn Bristowe: Instagram, July 28, 2015, instagram.com/p/5k0kcXQDsn
Catherine Lowe: Instagram, June 3, 2015, instagram.com/p/3Mer5HBrGI
Becca Tilley: Instagram, July 21, 2015, instagram.com/p/5I2DC4IB_e
Carly Waddell: Instagram, May 10, 2015, instagram.com/p/2RjzTWPA5T
Clare Crawley: Instagram, May 29, 2015, instagram.com/p/2omvL7ik_q
Andi Dorfman: Instagram, June 16, 2015, instagram.com/p/34hxEKzdsB
Ashlee Frazier: Instagram, April 28, 2015, instagram.com/p/1sxylzRg1F
Sean Lowe: Instagram, August 3, 2015, instagram.com/p/57rDqqgkJq