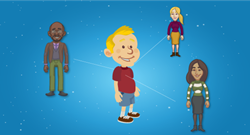 "The onTRAC system lets our staff focus in on the needs of every individual student."
Roanoke, VA (PRWEB) August 10, 2015
Less than a decade ago, Interactive Achievement's onTRAC instructional improvement system was merely a concept being tossed around by a couple of experienced Virginia educators. Today, the Roanoke-born business celebrates a statewide contract to deliver improved education strategies through onTRAC's data-driven solutions and empower educators to create "ah-ha" moments for more than one million Virginia students. The contract win was announced today at Interactive Achievement's onTRAC user conference in Alexandria, Virginia.
"This is a momentous day for us," Jonathan Hagmaier, CEO of Interactive Achievement, said. "As a former teacher and Virginia administrator, I can tell you with confidence that our system does make a difference in the classroom."
Following an exhaustive selection process, Interactive Achievement's onTRAC system was selected by the Virginia Information Technologies Agency (VITA) to supply the Virginia Department of Education (VDOE) with an instructional improvement software solution that provided a unified data platform, linking all of the Commonwealth's school divisions, administrators, staff, teachers and students.
"We developed onTRAC because as a teacher, I witnessed firsthand on countless occasions the need for a data-informed education tool that did not exist," Hagmaier said. "onTRAC uses previously established and newly tracked data points to identify education trends, determine a student's or district's education strengths and weaknesses, track progress against standardized testing data and allow teachers and administrators to implement informed, customized tactics specific to a student's education needs. Quite simply, we deliver tools and information that empower parents, teachers, administrators and ultimately students to succeed."
The system that will be made available to all Virginia schools combines the best of Interactive Achievement's Longitudinal Data System and Assessment Management System into one seamless solution. In addition to supporting a broad range of district assessments, including alignment to standards and curriculum, onTRAC provides a useful breakdown of critical data that allow teachers the opportunity to create personalized learning plans for every student.
"The onTRAC system lets our staff focus in on the needs of every individual student," said Jim Yurasits, Director of Testing, Data, and School Improvement for Orange County Public Schools. "The seemingly impossible task of analyzing the large volume of data that needs to be collected for every student is simplified by the reporting tools built into the onTRAC system. We have been able to achieve double-digit gains in SOL test performance by providing customized remediation to the students that need it."
Additionally, the onTRAC Interventions module will be included at no additional cost, providing educators additional tools such as intervention tracking, behavior monitoring and attendance tracking. onTRAC provides every stakeholder a 360-degree view of student progress to ensure the greatest opportunity for success.
onTRAC will be new to many Virginia educators, but not to all of them. In the last eight years, Interactive Achievement's solutions have been adopted by over 100 school districts in Virginia.
"OnTRAC enables me to drill down to the root of my students' difficulties. I can then design a differentiated course of action to ensure that my students are meeting as well as exceeding their educational goals," said Charles Motter, a math teacher and Instructional Technology Resource Specialist for Cumberland County Schools. "Having all of my students' past performance data in one location will allow me to identify perennial areas of struggle and streamline how I approach my curriculum to better meet the educational needs of my classes. I am excited that the state of Virginia has now made it possible for school divisions to incorporate so many resources into our 'tool box'."
A vital piece of Interactive Achievement's solution is the onTRAC Live customer service platform. The service provides real-time, real-person online support at the click of a button. Boasting a help desk staffed by former teachers and administrators empathetic to the demanding world of teaching, onTRAC Live engages educators through online chatting and screen share, through e-mail or by phone.
"The most impressive quality of Interactive Achievement is the commitment to customer service. When issues arise or I have a question, the IA customer support group is just a phone call away," said Shannon Davis, Data Specialist at Harrisonburg City Public Schools. "The staff is courteous, capable and willing to go the extra mile to ensure that IA is meeting the needs of the school districts that they serve. At Harrisonburg City Public Schools, we have forged a solid relationship with the team at Interactive Achievement, as we partner together in the goal of achievement and success for all students."
Specifics of how Interactive Achievement's instructional improvement system will be implemented will be determined with the VDOE in late August as the partnership is kicked off. In this contract award, school districts that opt-in to the state-provided vendor solution from Interactive Achievement will receive the service at no cost with the state covering all related license fees. IA will work directly with the VDOE and districts on a customized implementation timetable to suit each district's specific needs and supply Virginia teachers and school administrators with ongoing training and support.
Hagmaier added, "We've long-been supporting many of Virginia's educators with our onTRAC Assessment Management System module. Now we have an even greater opportunity to expand this support with the onTRAC Longitudinal Data System, enabling our current client base, along with many more of their peers, to strengthen the difference they are all making in our students' education."
About Interactive Achievement
Interactive Achievement (IA) creates award-winning standards-based instructional improvement systems for school districts that create positive change in student education. IA was founded in 2006 by educators searching for improved assessment and reporting tools to enable both students and teachers to achieve success. As a result, IA's team of educators created the onTRAC system to assist their education peers in making data-driven curriculum decisions in an effort to raise student achievement. OnTRAC is being used in classrooms across 13 states and is currently being piloted in the United Kingdom. IA is ranked 33rd within the Inc. 500|5000 list of Top Education Companies. Visit http://www.interactiveachievement.com for more.