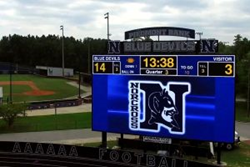 The City of Norcross is proud to support such a great high school. This project is an innovative way to communicate with the community and educate the students that will operate the board. - Mayor Bucky Johnson
Norcross, GA (PRWEB) August 12, 2015
About the largest high school video display
The new display measures 29'-5" x 51'-5" and provides 1,513 square feet of video excellence. With 518,400 pixels and 1,555,200 diodes the display is also the highest definition display screen for any secondary school entertainment venue. The system includes numerous features ranging from video display with replay and streaming feeds from multiple video cameras to advertising display and complex scoreboard functionality. Norcross mayor Bucky Johnson commented, "The City of Norcross is proud to support such a great high school. This project is an innovative way to communicate with the community and educate the students that will operate the board."
Where educational curriculum merges with athletics
The high tech video display will provide an experience for students on and off the athletic field. Operation of the electronic display will be done primarily by students who are part of the school's video production group. Formetco, the video screen manufacturer, partnered with Norcross High School to train students on how to manage all aspects of the system. This opportunity gives video production students tremendous working knowledge and hands on experience with a near million dollar system. From the viewer side, the display literally brings a larger than life view of athletic competition. Todd Heller, Vice President Formetco, commented, "This is more than just a football video screen or scoreboard. It is a multi-purpose giant video screen for all sports, events and functions. It will greatly improve the visitor experience while providing a learning experience for students."
How a dream became reality
Although Norcross High School provides an exceptional educational experience, it is not blessed with the coffers of Atlanta's most affluent school districts. As a high school that benefits from Title I Formula Grants many people thought the idea of a non-essential capital improvement was only a dream. The project was built with the support of the City of Norcross, and private funding from major contributors including title sponsor Piedmont Bank, video display manufacturer Formetco, Akins Ford and Norcross Sports Training Academy.
Believing that hard work pays off, head football coach Keith Maloof and a group of boosters joined together to pursue the dream."It's amazing how it all came together. The end result far exceeded our expectations and we are extremely grateful to everyone involved." said Coach Maloof. Beyond aesthetic value is the additional benefit for the school is the ability to generate revenue from advertising sales. The advertising revenue will cover system maintenance, and provide funding for school events and needs.
About Norcross High School
Norcross High School is located in Norcross, Georgia, and is part of the Gwinnett County Public School System. The school is a top International Baccalaureate school in Georgia. The school strives to provide a world-class education for all its students, balancing rigorous academics with excellence in athletics and fine arts, ultimately leading students to their highest level of success after graduation.