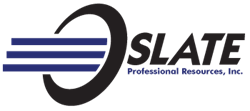 Freehold, New Jersey (PRWEB) August 12, 2015
Mr. Levine brings over 20 years of both Professional Services and staffing expertise to Slate and will work closely with the Executive Team on organic and acquisition growth of the organization.
Prior to his new role at Slate, Mark served as President and Chief Operating Officer for Corporate Resource Services, Inc, since 2007. He was the Executive Vice President of Accretive Solutions, Inc. a $160 million Accounting and Finance/ IT Consulting firm from 2001 to 2007. In 1998, Mark was named President of Stratus Services Group and held that position until 2001. From April 1996 to April 1998, Mark served as Regional Vice President of Corestaff, Inc. He also served as Regional Manager of Norrell Services, Inc., from 1993 to 1996. From 1983 to 1993, Mark served as Assistant Vice President of United States Sales of Dun & Bradstreet.
"We are extremely excited to have Mark join our firm as President, said Jeffrey J. Raymond, Chief Executive Officer of Slate Professional Resources, Inc." "Mark's ability to grow and manage large staffing and consulting businesses will assist us in continuing to build a high margin Professional Services firm throughout North America."
About Slate Professional Resources, Inc.
Slate Professional Resources, Inc. is a national provider of professional staffing and consulting services throughout the IT, Accounting/Finance and Legal industries with innovative, cost effective solutions to their varying client demands.
This Press Release contains forward-looking statements, which are subject to risks and uncertainties. Such statements are based on assumptions and expectations which may not be realized and are inherently subject to risks and uncertainties, many of which cannot be predicted with accuracy in sum of which might not even be anticipated. Future events and actual results, financial and otherwise, may differ from the results discussed in the forward-looking statements.