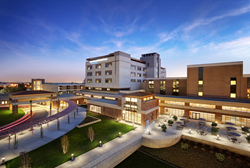 This combined tax exempt and taxable financing provides AH with both significant cash flow savings and low cost new money on the tax exempt issuance together with maximum flexibility for the taxable new money private placements...
(PRWEB) August 10, 2015
Ziegler, a specialty investment bank, is pleased to announce the successful closing of $337 million financing for the Adventist Health System/West, comprised of $187.5 million tax-exempt Series 2015A issue through the California Statewide Communities Development Authority and the $150 million taxable direct placement transaction. Adventist Health, headquartered in Roseville, California, is an integrated health system with more than $3.2 billion in revenues and operates 20 hospitals and 275 clinics in California, Hawaii, Oregon and Washington.
Ziegler served as the lead underwriter for the $187.5 million tax-exempt Series 2015A Bonds to current refund Adventist Health 2005A Bonds and fund approximately $42 million of new money projects. The Series 2015A Bonds is part of a $337 million financing plan that includes a $150 million, taxable direct placement which Ziegler placed with two lenders after running a competitive bid process on behalf of Adventist Health. Ziegler negotiated reductions in both banks' increased cost provisions and financial covenants that were materially less restrictive when compared to Adventist's previous direct placements. The taxable loans bolster Adventist Health's liquidity position in the short run and help facilitate funding Adventist Health's strategic growth strategy in the long run.
The matched maturity refunding component of the Series 2015A Bonds generated more than $52 million in cash flow savings (including release of a DSRF of $17.9 million) and NPV savings of approximately 10.3% on the refunded bonds. The Series 2015A Bonds have a final maturity of 2045 that carries a 5% coupon with an initial 4.08% yield to the first call date, a spread of 80 bps to MMD. Ziegler's capital markets team generated orders from 48 institutional accounts and several retail investors allowing the issue to be re-priced with lower interest rates for most of the offered maturities.
Jack Wagner, Senior Vice President and Chief Financial Officer for Adventist Health commented, "This combined tax exempt and taxable financing provides AH with both significant cash flow savings and low cost new money on the tax exempt issuance together with maximum flexibility for the taxable new money private placements. We are pleased with both transactions and Ziegler did a fine job of underwriting, coordination, and negotiation and was able to leverage our strong credit profile to meet our financing needs."
Ziegler is a premier investment bank to community and regional healthcare providers. For over 80 years, we have been assisting these organizations with creative, tailored financial solutions for their capital needs. Specializing in healthcare, Ziegler offers an array of services including investment banking, financial risk management, merger and acquisition services, as well as capital and strategic planning.
For further information on the structure and use of this issue, please see the Official Statement located on the Electronic Municipal Market Access system's Document Archive.
For more information about Ziegler, please visit us at http://www.Ziegler.com.
About Ziegler:
The Ziegler Companies, Inc., together with its affiliates (Ziegler), is a privately held, specialty investment bank with unique expertise in complex credit structures and advisory services. Nationally, Ziegler is ranked as one of the leading investment banking firms in its specialty sectors of healthcare, senior living, religion, and education, as well as general municipal and structured finance. Headquartered in Chicago, IL with regional and branch offices throughout the U.S., Ziegler provides its clients with capital raising, corporate finance, FHA/HUD, strategic advisory services and research. Ziegler serves institutional and individual investors through its wealth management and capital markets distribution channels.
Certain comments in this news release represent forward-looking statements made pursuant to the provisions of the Private Securities Litigation Reform Act of 1995. This client's experience may not be representative of the experience of other clients, nor is it indicative of future performance or success. The forward-looking statements are subject to a number of risks and uncertainties, in particular, the overall financial health of the securities industry, the strength of the healthcare sector of the U.S. economy and the municipal securities marketplace, the ability of the Company to underwrite and distribute securities, the market value of mutual fund portfolios and separate account portfolios advised by the Company, the volume of sales by its retail brokers, the outcome of pending litigation, and the ability to attract and retain qualified employees.
# # #